REWORKING MY WARDROBE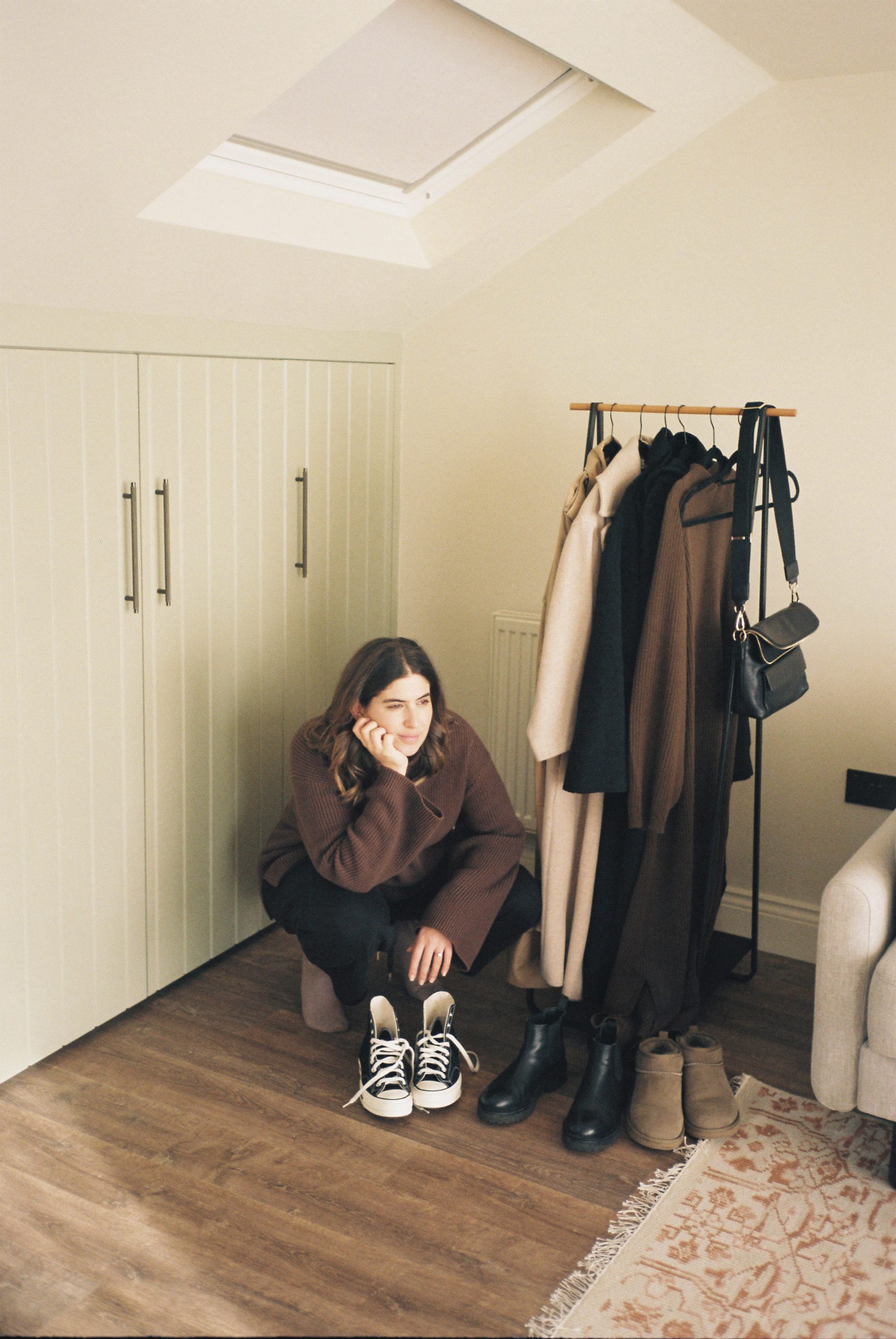 After having my first baby I felt totally lost when it came to how to dress. My wardrobe was filled with t-shirts that didn't fit and worked best tucked into high waisted jeans, trousers that didn't suit my new body shape and shirts that didn't sit right on my broader shoulders. It felt like someone else's wardrobe and it took me a really long time to let go of older items that didn't work any more and find newer styles that felt right. To be honest I'm not sure I ever really got to a comfortable place with my style before getting pregnant again two years later; the pandemic and the ability to wear loungewear most days probably didn't help. The reality is you're pregnant for 10 months, which is almost a year and during that time all style goes out the window, well for me it does anyway. So here I am, three months postpartum after three and a half years of either being pregnant or confused about what to wear, and I think I've finally worked it out.
I can't tell you why, but after my first baby I felt like I'd lost myself, but after my second I feel like I've found myself again. For the first time in years I look forward to buying clothes, to getting dressed and I don't totally hate looking at photos of myself. Honestly I know this all sounds a bit shallow, and trust me I never thought or cared so much about this before but I think the mix of hormones and exhaustion just messes with you as a new parent and you crave a bit of self confidence. So what's actually different this time? Because I still have a postpartum body and everything that comes with it, I still have the exhaustion… But maybe because it's my second time the changes are less shocking, I was more prepared and the big wardrobe change has already happened so I have more options this time. Also call me old fashioned, I don't know if this is actually true but the hormone imbalance I felt having a girl pregnancy and birth vs a boy one was SO different.
There's also something to be said for just getting older and more confident in your own style choices. There's something very freeing about having the confidence to wear what you feel comfortable in, instead of what you think you're expected to wear.
So let me try to pin point the main changes in my wardrobe over the past few years as I've transitioned into a new lifestyle and a new body shape. The tighter graphic tees have been switched out for a more classic white tshirt with a bit more structure, slightly longer arms and longer in length allowing for a french tuck rather than fully tucked in. Other options instead of a graphic t-shirt would be a looser long sleeved top or a ribbed vest top layered under an oversized cardigan or linen shirt. The skinny jeans (although sometimes still worn with a longer oversized jumper) have been replaced with a more flattering straight leg jean, which kind of balances out my shape a bit more. I used to wear a lot of fine knit sweaters, but these days I find they just don't sit comfortably on me and I prefer a heavier knit. I especially like if they have a zip neckline, to create a more flattering shape. I used to wear a lot of shorter jackets, but they make me look quite top heavy and so these days I prefer a longer line trench or wool coat.
Like I said, I feel totally different after this last pregnancy as I did the first time round so don't be hard on yourself if you feel lost and like you no longer have a clue what to wear. It will come back! But in the meantime I found using Instagram really helpful for putting outfits together. It's easy to get into a rut of wearing the same top and jeans combination, but all it takes is a few extra pieces to make an outfit feel more complete and to make you feel more confident in it. Save any outfits you see and like, then shop your wardrobe to see if you can recreate it.
Here are some of the newer pieces in my wardrobe that I'm loving.