THE CURRENT SKINCARE LINEUP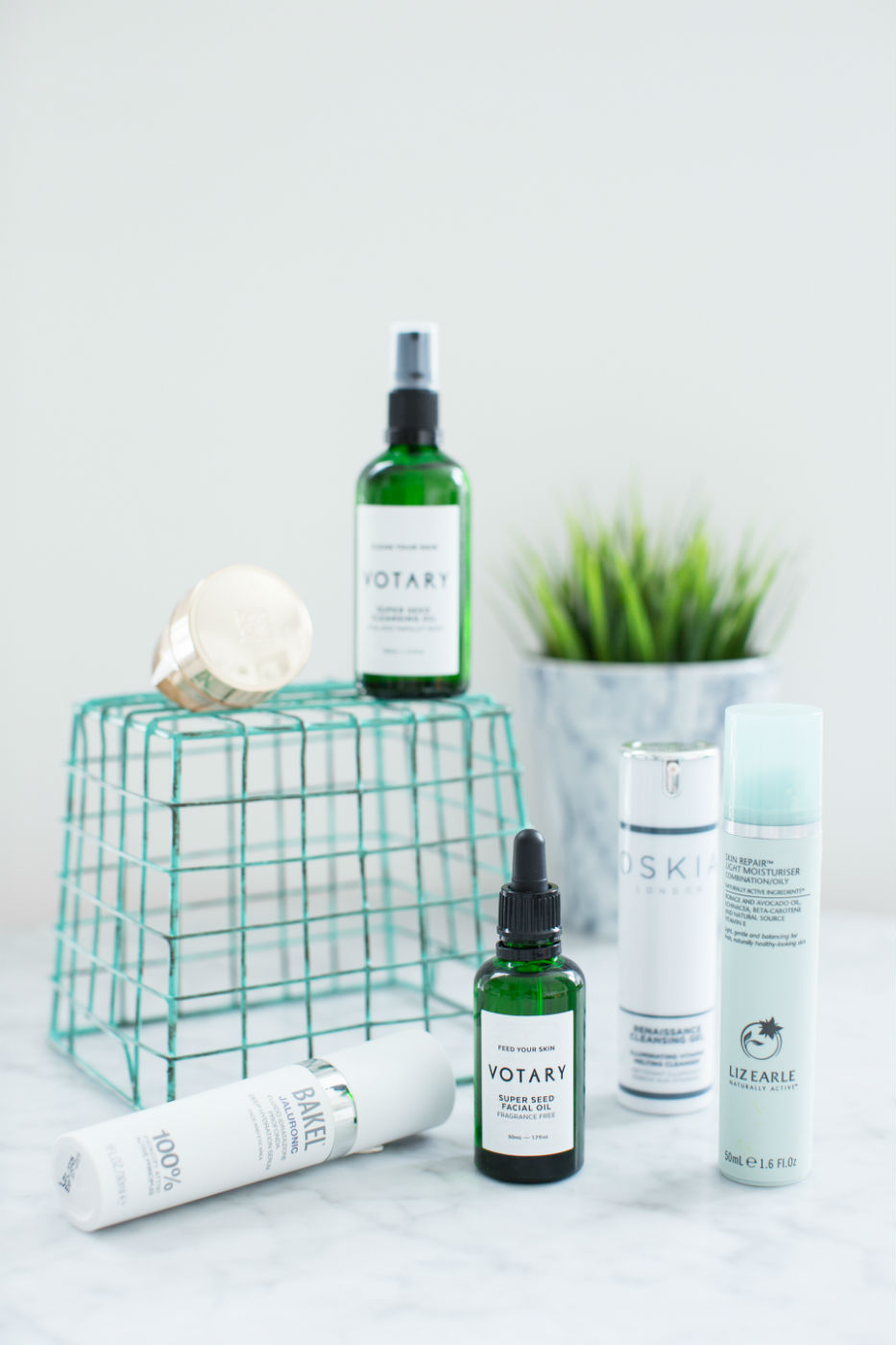 I haven't done an updated skincare routine video in a while so until that happens, here's a little roundup of the products that have been taking centre stage on my bathroom shelves. I've been trying to keep it simple and give each product time to work, I think it's important to allow time for your skin to get used to products.
The Oskia Renaissance Cleanser is a classic and I've been working my way through my extensive collection of travel minis. If you haven't already heard me rave about it, it's a gel cleanser that turns into an oil when worked into the skin. It removes my makeup well and leaves my skin feeling moisturised, which is exactly what I look for in a cleanser. I occasionally double cleanse in the evenings, usually on heavy makeup days and I've been trying out the Votary Super Seed Cleansing Oil. This is a natural brand that I've never tried before but have instantly fallen in love with! The brand describes this cleanser as "anti-irritation, anti-inflammation, deeply nourishing and anti-ageing" and I can definitely feel it's calming qualities. I like to use oils as a second cleanse so the product isn't wasted on removing makeup and I really enjoy the feeling this cleanser leaves on my skin.
In the mornings I have been enjoying using Bakel's Jaluronic Serum which, at £100, is definitely one of my most extravagant skincare products. But for those of you who like to invest in your skincare this serum is incredible! I've been using it every morning and I can really see the difference in the hydration of my skin. I can get quite dehydrated skin, especially when I don't drink enough water and with that comes creased makeup and ageing around my eye area. This serum injects a lot of hydration giving my skin a fuller, glowier look. I follow this with a simple moisturiser like the Liz Earle Skin Repair Moisturiser Light. I'm not that fussy with moisturisers but I do like this one as it's a simple formula that feels light on the skin. Most of my moisture comes from the serum and the moisturiser just works as a nice barrier between the serum and my makeup.
In the evening, instead of using the Bakel serum (which you can definitely use in the evenings if you want to) I prefer to use an oil and leave it there. The Votary Super Seed Facial Oil is perfect because it isn't too heavy but it's easy to apply and I love the way it feels on my skin. This range has really impressed me and this final step in the evening has become my favourite. I also use the Estee Lauder Revitalising Supreme Eye Cream morning and evening to hydrate around the eye area and after having a few bad experiences with eye creams I'm glad I've found one that works.
I'm really happy with my current routine, it doesn't feel like too many products but just the right amount to get the job done.
Photos by Lauren Shipley