WEAR LIFE EATS 29.08.15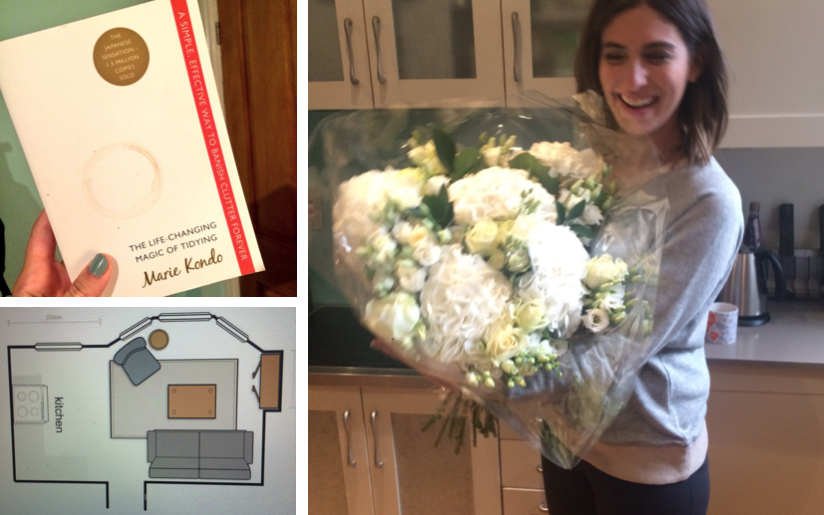 They say that you suddenly get to the age where everything happens at once and they weren't wrong. I've been all over the place over the past few months and it just keeps getting crazier and crazier! I haven't done a proper Wear Life Eats in a while so I wanted to check and say hi!
I've been spoilt with flowers since Rich and I got engaged, my home is filled with beautiful white bouquets and I love it. Seriously, people are so nice when you get engaged!  We're slowly getting there with our new place and hopefully we can move in soon. If you haven't seen this week's vlog yet, go check it out – we paint the whole place white! We ended up using Dulux Pure Brilliant White Mat paint as recommended by Kate and Anna. I was really worried it would be too white and clinical like some of the other pure white paints I'd tried but it was perfect. Because it's an emulsion paint it's actually quite sheer, so after two coats (it would definitely take more than two if you're covering a dark colour) it looked white but not too white.
It's been fun trying to decide what furniture to buy and where to place it in the flat. It's definitely made me realise though that I'm actually not that opinionated when it comes to these things and I like to get a second or third opinion. I took advantage of West Elm's free design service where they can send a home stylist out to your place for free to access your space. Ben came over to our place and he was so friendly! We chatted about the sort of style we like and how we'd use our space and then a few days later he sent over a document with the sort of layout he'd recommend for our lounge and an idea of the furniture pieces that would fit nicely. You have no obligation to buy, but if you love West Elm as much as I do you probably won't be able to resist. It was so, so helpful! I'd 100% recommend it, you have nothing to loose!
I'm hoping with the new place comes a new me, kind of… I've always been very organised but not very tidy. I always have a floordrobe going on and no matter how many times I tidy my desk area it soon piles up again. So I've been reading "The Life Changing Magic of Tidying" by Marie Kondo in the hope that it would inspire me before the big move. Now I have a lot to say about this book so I'll probably make a video but I just had to share how ironic it is that after buying it, a month later I found it hidden under a pile of clothes with a tea cup stain on the front. There's no hope for me…
So I hope you're all having a good weekend so far. Any of you from Berlin, if you'd like to come and meet me, Anna and Mamas Gun tomorrow night you can buy tickets here or on the door. We'll be doing a meetup from 7pm.