TWO NEW BASES REVIEWED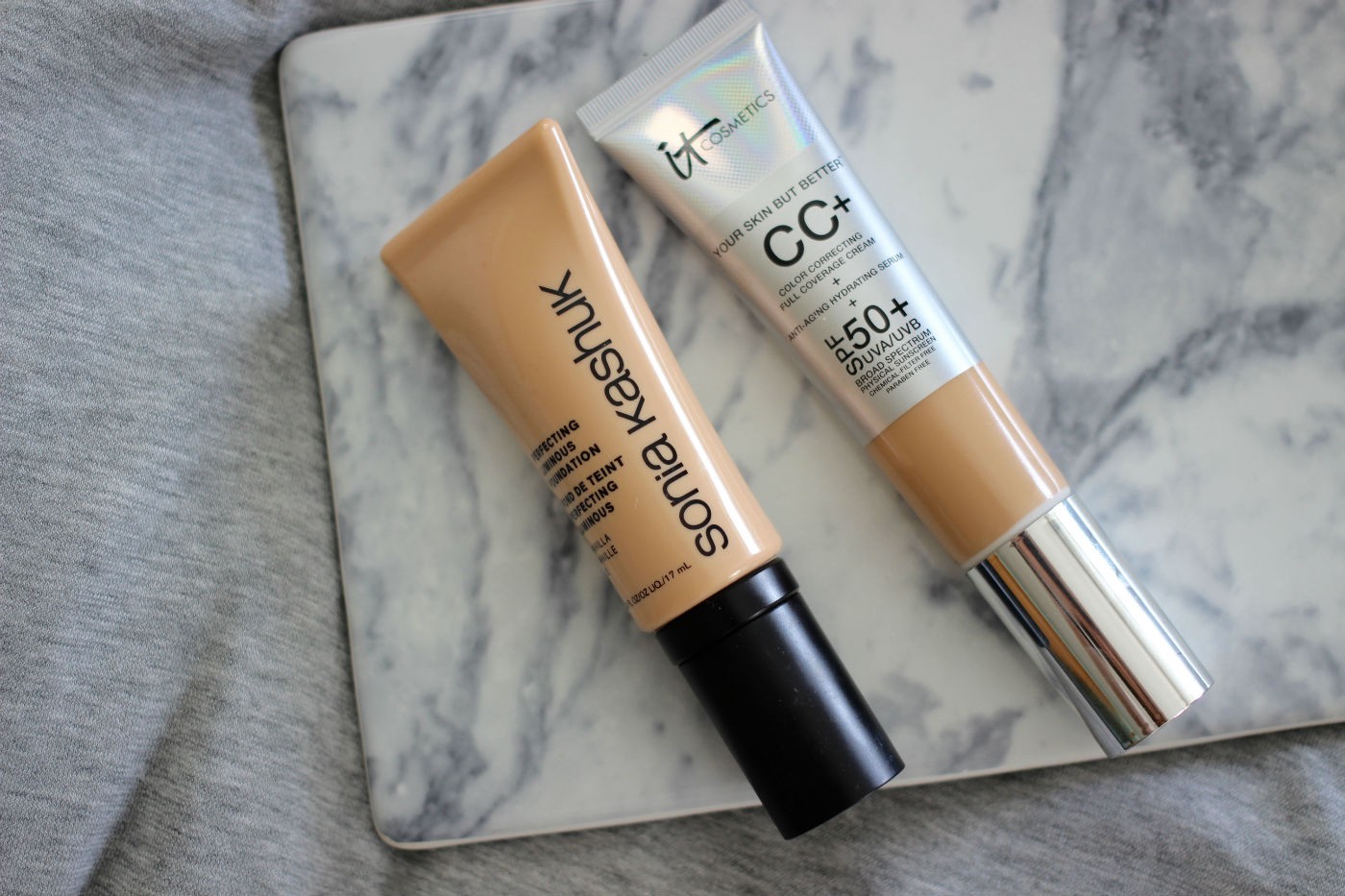 I picked up two new base products on my trip to LA and it's been a couple of weeks since I got back and have been able to try them out. One I knew quite a lot about and the other I had never even heard of. Just a pre-warning before I get into this… I find foundations the hardest type of product to review, I don't know why. I've stared at my face in the mirror for long enough now and I think I'm ready to share some thoughts…
It Cosmetics CC+ Cream
This was a recommendation from Makeup by Tiffany that came to me via Anna, her biggest fan. Anna picked this up in store and the excitement on her face said it all… so I had to try it! There were two options, this one and an illuminating CC Cream but after swatching them on my hand I felt I would get more use out the original formula. I was hoping for a hydrating tinted moisturiser that packs a punch when it comes to coverage. The first few times I tried it I just couldn't get it right. The formula seemed too thick to blend with a buffing brush but using my hands to blend didn't work either. The whole thing felt a bit heavy and a bit stiff so I was quite disappointed. I decided before giving up to go back to Makeup by Tiffany's review video to find out how she's likes to apply it. I've never even considered applying tinted moisturiser this way, but she sort of pats it onto the skin – strange! I tried it out myself at home and it worked! I found it blended into the skin much better and I was left with a decent amount of coverage without it looking too heavy. The shade 'light' is not quite light enough for me and has a sort of grey tone to it that I'm not sure I love. After a few go's I was actually really happy with this one, but it was hit and miss at the beginning.
Sonia Kashuk Perfecting Luminous Foundation
I hadn't heard anything about this foundation but I like Sonia Kashuk as a brand and I find anything with the word luminous in it appealing. This one I liked straight away as it's more of a traditional foundation, a bit like NARS Sheer Glow. It's got more coverage than a normal tinted moisturiser but still blends nicely into the skin and leaves a nice, slightly dewy finish to the skin. The shade Vanilla is a perfect match for me and if I remember correctly there was a really good range of shades in Target. This one I know is a winner with lots of different skin types, whereas the IT Cosmetics CC Cream I can imagine would be a love/hate product.
So have you tried either of these? I'm actually really glad I picked them both up.