THE ESSENTIAL MAKEUP BRUSHES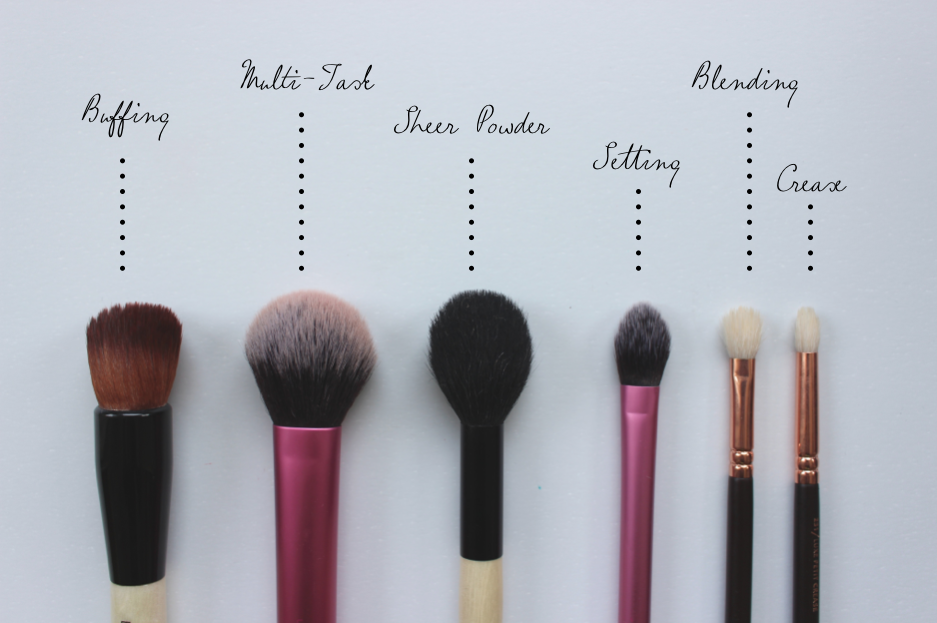 I confess, I am a brushaholic. Flawless makeup can definitely be achieved with just your fingers but there's no denying the satisfaction that comes with blending out your makeup using a fresh, soft brush. So if I had to only pick a handful to recommend, my top picks let's say, this is what I'd choose…
Buffing // Bobbi Brown Full Coverage Face Brush
I was never into flat foundation brushes that made applying foundation feel more like painting a wall. I first tried a buffing style brush when Real Techniques released their core edition and the RT Buffing Brush is a great one to start with. I do, however, prefer the Bobbi Brown Full Coverage Face Brush for foundation as it's incredibly soft but still firm enough to buff in your foundation. Using circular motions and this style of brush gives a really natural finish to your base and also speeds up your routine.
Multi-Task // Real Techniques Multi-Tasking Brush
Due to my extensive collection of brushes, I don't actually use this one that often but if I had to cut it all back, I'd definitely pick this one for my final line up. The synthetic, soft bristles work well for a range of things. You can use this brush for powder bronzer and blusher and it also works great with cream formulas. It has a good shape to it and the rounded top stops you from applying too much product.
Sheer Powder // Bobbi Brown Sheer Powder Brush
This is the perfect brush for both powder and blusher. The bristles are incredibly soft and product applies sheer and beautifully to the skin. It's a great size to use with powder to set your concealer and it fits nicely on the apples of the cheeks for blusher too. If you wanted to I think this would also work well as a brush for contouring under the cheekbones and onto the temples.
Setting // Real Techniques Setting Brush
Flat concealer brushes don't do it for me anymore. They're handy to apply cream concealers but if you use liquid concealers like I do then this setting brush works perfectly. Originally designed to use with powder to set your concealer I actually think this works best to blend out your concealer instead. Using small circular motions like I do with the buffing brush, I use this to blend the product under my eyes, around my nose and on my chin.
Blending // Zoeva Luxe Soft Definer Brush
I like to apply all powder eyeshadow with a soft fluffy brush as I think it stops you applying too much and means you can apply and blend at the same time. These brushes are really soft, they're great quality and they're affordable! I now only use these instead of MAC 217s.
Crease // Zoeva Luxe Petit Crease
Although this  is actually meant for your crease, I use this underneath the eye and it's the perfect size! I always like to apply eyeshadow under the eye to balance it out and give a more lived in look. This brush has a bit more movement to it compared to other brushes like this I've tried, which makes application much easier.
So now what I wanna know, is what are your essential brushes? Am I missing anything major from my line up?
This blog post was requested by Yasmine Gleghorn, thanks Yasmine! If you would also like to request a post, please submit your idea here.