Private Blends & Signature Scents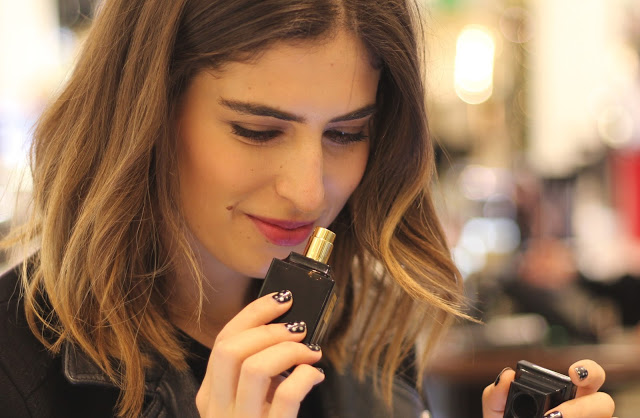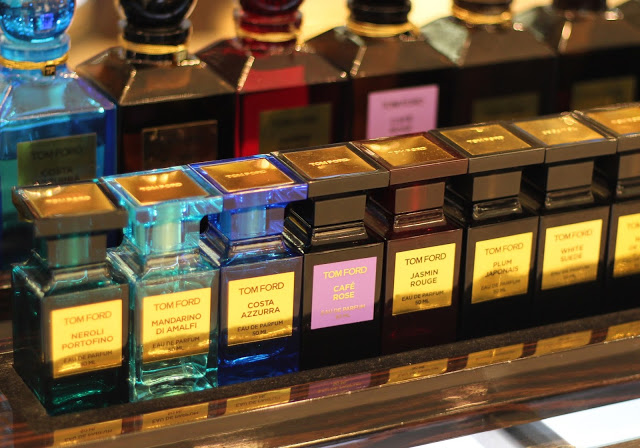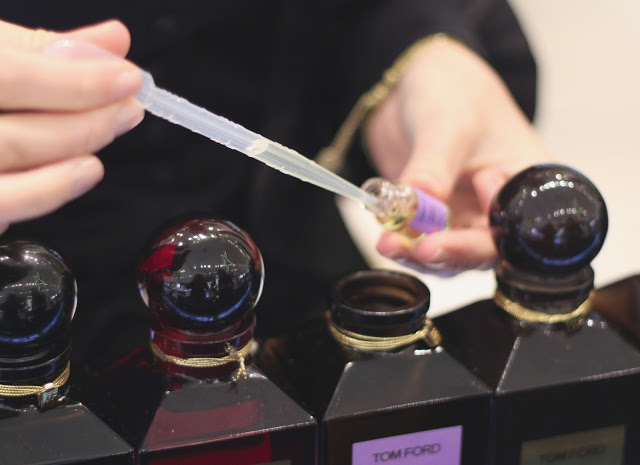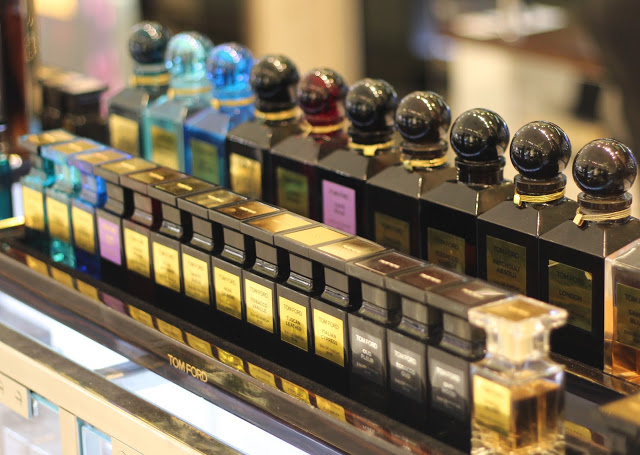 I've walked past the Selfridges Tom Ford fragrance counter so many times before. It's slightly intimidating and the amount of fragrances on display is also quite overwhelming. I didn't know that you can actually book an appointment to have the full Tom Ford experience though and once I found out Anna and I booked in straight away. It's free for anyone to have, you just ask at the counter or phone up!
Sasha, the lady who helped us, was really friendly and seriously knows her stuff. She started by talking through the different fragrances they have. The Private Blend fragrances are the small bottles all lined up and are artisanal blend fragrances. The Signature Fragrances are more widely available and are slightly more affordable (although still Tom Ford prices!). Some of the bottle designs differ from the original black and gold as they were released in limited edition collections in the past and made permanent due to their popularity.
We went through each fragrance one by one talking through the notes and figuring out which scents we prefer and which we dislike. Once Sasha could identify the notes we prefer, it was easy for her to pick our fragrances that she thought we would like. There were coffee beans available to clear our noses as it can get a bit muddled when you're smelling so many different scents.
Once we'd picked a few favourites Sasha was able to put a decent amount of fragrance into small glass vials with name labels. It's very rare that you're actually able to sample fragrances like this and it's so nice to be able to try it yourself at home and make a decision. Fragrances smell so different on the skin, so it's impotent to see how it sits and develops throughout the day.
A lot of their fragrances are quite heavy and intense but there are a few softer, lighter ones in there too! Their most popular scent for women is Black Orchid and their most popular for men are Noir EDP, Grey Vetiver and Tom Ford for men. My favourites were White Suede, Cafe Rose and Velvet Orchid. In the end I chose White Suede, it's fresh, light and has that nice clean scent to it.
It was a great experience and I'd really recommend it if you were thinking of updating your fragrance wardrobe!