RASPBERRY CHOCOLATE BROWNIES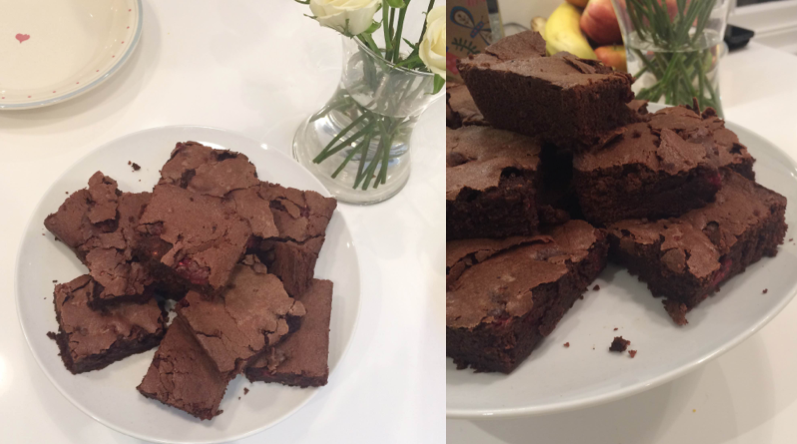 A few weeks ago my sister hosted a weeknight family dinner and as soon as I entered her house I could smell she'd been baking. She'd been making brownies with a twist. Instead of just adding chocolate chips as the recipe suggested, she added raspberries and they were amazing!
The recipe is one from the queen Mary Berry herself, but this time not from her 70s throwback book but from her brand new book! It's the easiest thing to bake because all you have to do is mix everything together in one bowl. So for those of you begging on Instagram, here's the recipe so you can make some yourself.
Ingredients
275g (10oz) softened butter
100g (4oz) self-raising flour
100g (4oz) plain chocolate chips (optional)
a box or two of raspberries (up to you how many!)
1. Pre-heat the oven to 180c/Fan 160x/Gas 4. Grease a 30 x 23 cm (12 x 9 in) tray bake or roasting tin then line the base and sides with baking parchment.
2. Measure all the ingredients into a large bowl and beat until evenly blended. Then add in the raspberries last but make sure to use a spoon to gently mix these in, you don't want to break the raspberries completely. Spoon the mixture into the prepared tin, scraping the sides of the gown with a plastic spatula to remove all of it. Spread the mixture gently to the corners of the tin and level the top with the back of the spatula.
3. Bake in the pre-heated oven for 40-45 minutes or until the brownies have a crusty top or skewer inserted into centre comes out clean. Cover loosely with foil for the last 10 minutes if the mixture is browning too much. Leave the brownies to col in the tin and then cut into 24 squares. Store in an airtight tin.
So that's it! Told you it was easy. I can't wait to make some of these at home – they were so delicious!