NARS DUAL-INTENSITY EYESHADOWS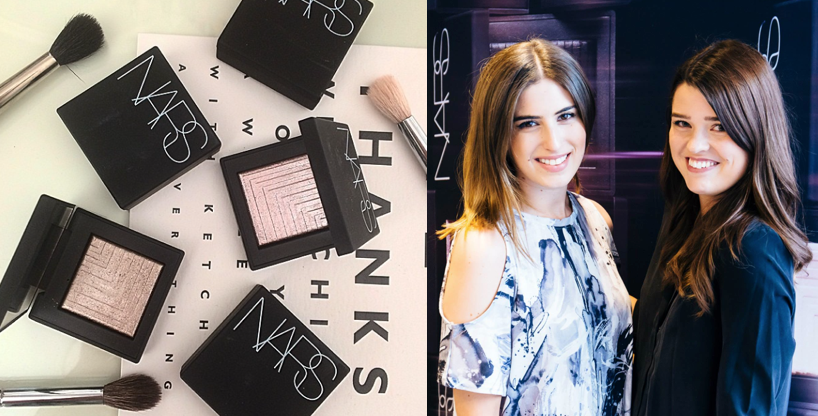 NARS have some pretty amazing new eyeshadows out and if you came to our Space NK event or watched my vlog you would have seen me sporting the shade Dione, a beautiful champagne beige.
So there are 12 shades in this new Dual-Intensity collection and if I'm honest I was skeptical at first. When NARS asked us to work with them on the event I wanted to make sure I really liked the product first and when I first saw them, I wasn't sure. The shades look very metallic in the pan which isn't something I usually go for. The idea is that you can use them dry or wet so I gave them a proper test to find out whether they'd get a thumbs up or a thumbs down from me…
I found that using my finger works best when using them dry and the shades come out a lot more sheer than they look in the pan. The lighter shades leave a beautiful soft shimmer across the lid and the darker shades give a subtle smoke. But using them wet? Wow. That's when the magic happens.
I made my blending brush damp with a makeup setting spray (you can also just use a water spray) and then covered the brush in product. I found the shadows applied so smoothly and blending them out was just a dream. It left a sort of foil effect but one that you can wear quite sheer or build up to something quite opaque if you want to. I really love the effect it gives and I couldn't stop looking at my eyes in the mirror. Something I noticed at our event when all the girls were having their makeup done is that the same shade looked different on everyone, which I thought was really cool!
The packaging of the product is really cute and the little squares are magnet so if you want to stack up your collection you can. It's an exciting launch by one of my favourite brands, so even if you're feeling skeptical like I was, let them try it on you at a counter and I think you'll change your mind!