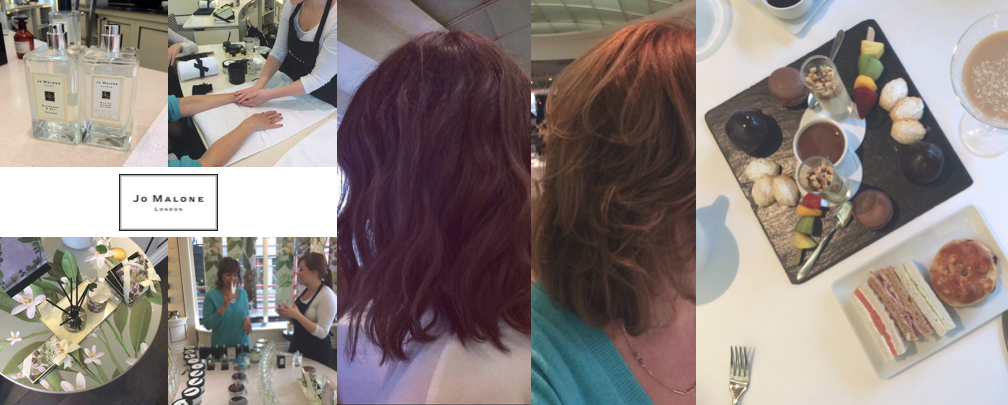 It's Mother's Day tomorrow in the UK, just a gentle reminder for those of you who still need to buy a card! This week my mum and I has a pre-mother's day packed full of lots of treats… she deserves it putting up with me!
Our day started with a visit to the Jo Malone boutique on Sloane Square, which is one of my favourite brands that I was introduced to by my mum many years ago. We had a fragrance consultation which everyone is offered for free in store where they help you decide on your favourite scents and which ones mix well together. We were then treated to a gorgeous hand and arm scrub followed by a spritz of our favourite scent combinations. Mine was Wild Fig & Cassis and Blackberry & Bay – yum! If you're still stuck for ideas on a Mother's day gift, the Sloane Square boutique are doing limited edition gifts where a 100ml perfume of your choice can be placed into a beautiful box of blooms. The flowers are gorgeous and will last for weeks. I think it's a really special gift for a mum!
LIFE //
Next up was a visit to the Daniel Hersheson salon in Harvey Nichols. Whilst I had the most relaxing, perfect pedicure my mum was in a private room having "the best facial she's ever had" by Nita. My mum gets facial a lot so for her to say this was the best is a big deal. She came out makeup free but completely glowing from the 'Alexandra Soveral' treatment. We then both had blow dries, but this time it was me saying "this is the best blow dry I've ever had". It usually takes about an hour to tackle my hair, but Roi blow dried and added waves in about 15 minutes, insane. You can see the final result properly in this video where 95% of the comments are on how nice my hair is. I'd definitely recommend the Hersheson salon for spa treatments and blow dries, we had a great experience and I'm sure I'll be going back very soon.
EATS //
With our hair perfectly waved, we headed up to the 5th floor of Harvey Nichols for afternoon tea in Season. We had the chocolate tea, which came with a ridiculous amount of chocolate, a chocolate martini, finger sandwiches and scones. To say at the end we were full would be an understatement.
I hope you all enjoy Mother's Day tomorrow. Give her a big hug and a big thank you because mums are the best!