THE KIEHLS SPF DUPE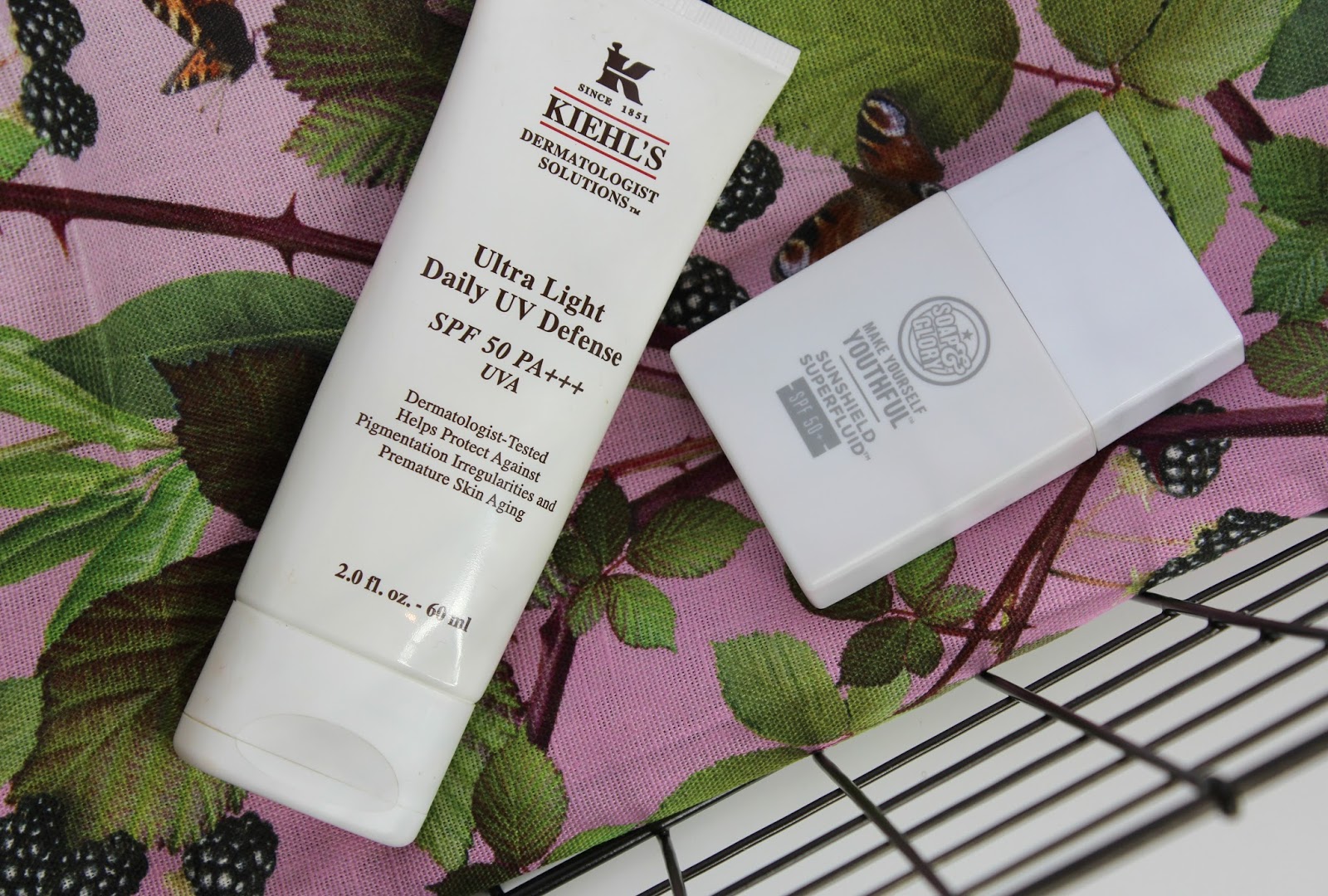 If you read my site daily then I'm sure you've already heard of the Kiehl's Ultra Light Daily UV Defense SPF 50. I've raved about for a long time now and I'm onto my second bottle of the stuff, so it's fair to say I'm a fan. It's great to use as a daily moisturiser or primer and although it feels light it has a really high SPF that'll protect your skin from both UVA and UVB rays. I try not to wear SPF every single day, but when I know I'm going to be outside for a long time then I want to protect my skin. Everything about the Kiehl's SPF is great, but at £31 it might not be for everyone. If you're only now getting into wearing an SPF and don't want to invest, I think I've found you a dupe!
The Soap & Glory Make Yourself Youthful Sunshield Superfluid SPF 50+ is only £15, making it half the price. It's a new product for Soap & Glory and one that is very much in demand in the drugstores. This SPF promises to protect your skin from UVA and UVB rays, inject Vitamin C & E into your skin and slightly mattify absorbing any unwanted excess oils. It also has a fancy patent-pending 'sun-damage-blocking' Liposhield HEV Melanin that helps fight premature ageing and hyper pigmentation.
With these things I can't really comment on the long-term effects but I can tell you that it feels great on the skin. It's lighter than the Kiehl's, feeling less like a moisturiser and more like a water based primer. The smell is pleasant, the packaging is great and I think it's a really good alternative. It's definitely one to pick up and add into your skincare routine if you're looking for that extra layer of protection.
It's currently on sale for £10 on the Boots website – link here
*UPDATE. Yes, the Soap & Glory one is half the size so it works out the same, but £15 (or £10 in sale) is a lot less to invest in if you want to give a daily SPF a try for the first time. Hope that makes sense and sorry for any confusion!