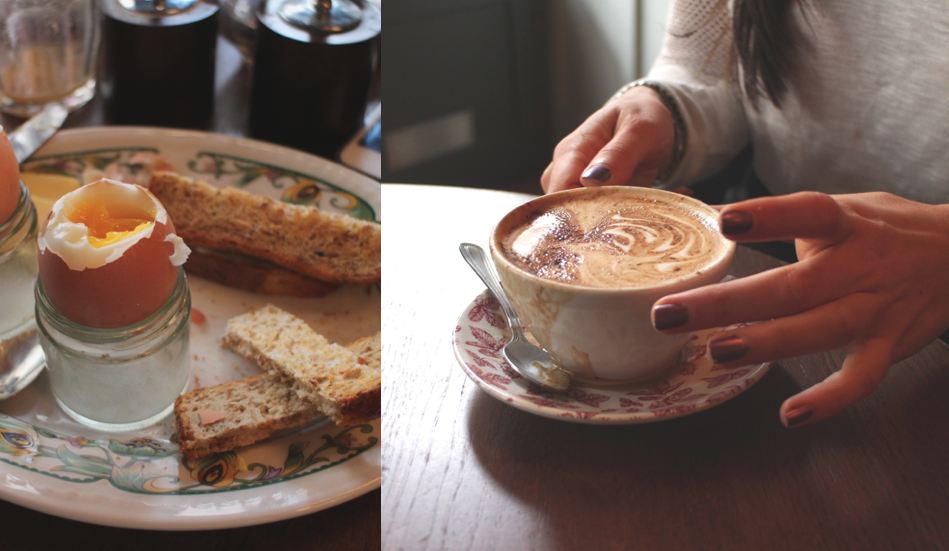 Growing up in London with a family that loves to eat out means I've tried my fair share of restaurants. My friends and family are always sharing recommendations that Rich and I like to try out most weekends. I'd say restaurant recommendations for London is one of my most asked questions on Twitter, so I wanted to do a post of some of my favourite places to eat. There are a few local gems I've missed out on the list as I wanted to keep it quite central making it suitable for both Londoners and visitors. So here it goes…
Right in the centre of Covent Garden, in my favourite colourful Neal's Yard lives the perfect pizza stop for lunch. You can either buy by the slice (they're huge) or share a 22inch pizza between you. The atmosphere is casual, fun and makes you feel like you're on holiday. The pizza toppings are far from boring, it's suitable for lunch or dinner and great for quickly picking up a slice on the go.
THE BREAKFAST CLUB //
link
So overly spoken about but still so good. The Breakfast Club has everything you could possibly want for a full-on breakfast plus more. Think American diner minus the grease. The menu has more to offer than breakfast and brunch, but going to TBC and not having pancakes or a full English is a bit of a crime in my opinion. Prepare to queue during peak times but trust me it's worth it.
For something slightly out of central London but in the heart of Primrose Hill, Greenberry Cafe is the place to be. Usually very busy and packed full of Primrose trendies but the food is delicious. Fresh ingredients, non-complicated dishes and the best salads. Great for brunch or lunch on a weekend and if you don't already know the area it's beautiful for browsing the local shops and walking in the park (walk to the top of the hill for the best view!).
If you find yourself on Oxford Street near Soho or Piccadilly circus, walk around the corner to Shoryu. Pick from a selection of authentic ramen dishes that are all completely delicious. If you love ramen, then you'll love this place and it's great for either lunch or dinner. Don't forget to ask for refill noodles if you run out too quickly!
For me, the best burgers in London are at Patty & Bun… hands down. It's a small place with not much atmosphere but the burgers? Amazing. It's a good place to visit if you're shopping in Selfridges and expect a queue but don't give up, it moves quite quickly.
Just next door to Pizza East and Dirty Burger (two other favourites) lives Chicken Shop, a slightly hidden downstairs restaurant. I love the vibe, relaxed, easy and fuss-free. There's no menu, simply some writing on the wall: whole, half or quarter chicken and four sides to choose from. The open kitchen has you drooling for chicken from the minute you walk in and don't even get me started on the crinkle cut fries…. When I go with my friends we usually get either a half or whole chicken and order all the sides to share. Leave some room for the apple pie though, they cut the slice at the table as small or large as you like!
One of my all-time favourite chefs and the master of Israeli salads. If you like deli-style salads, meats and breads it's definitely worth visiting one of his restaurants. Islington is a good one to go to if you want to try out a different, more residential area that also has lots of bars and shops on offer.
If you're looking for tapas in London, PIX is a really fun one to visit. It's self service so you pick your dishes, collect the sticks in your food and count them up when it comes to paying your bill. The small plates are delicious, really affordable and great for sharing.
Have I made you hungry? Let me know if you visit any of these places by tweeting me @lilypebbles