DIPTYQUE DOES SKINCARE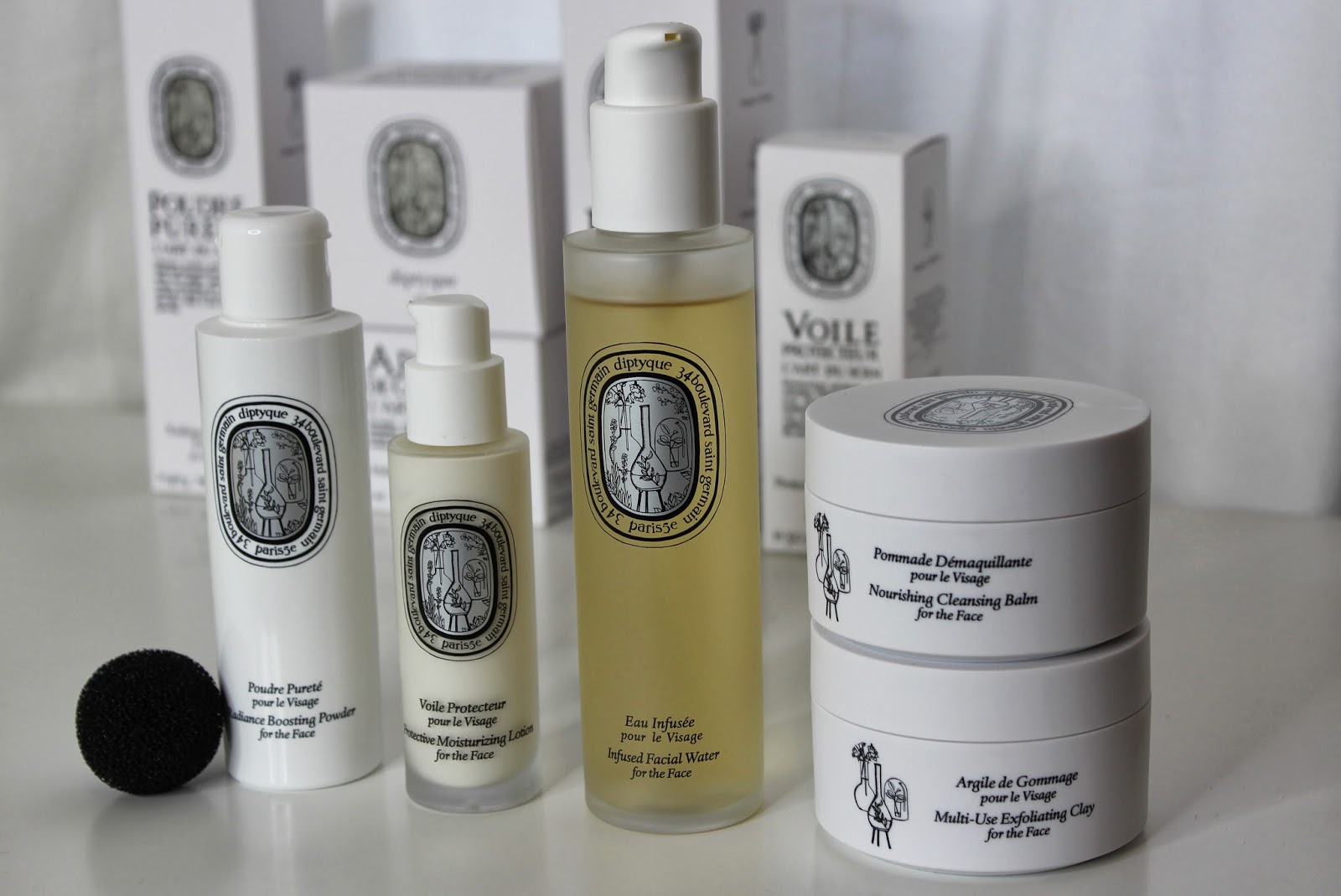 Diptyque who are well known for their incredible candles and room sprays (that I've raved on about for years) have made the natural progression on from body care and have created their own skincare range which will be launching this March. I have to say I was pessimistic at first, expecting a line full of overly scented products, stick to what you're good at definitely sprung to mind. I was actually pleasantly surprised, but saying that there are definitely hits and misses amongst the products, so here's the lowdown from my personal experience.
The thanks but no thanks product for me is the Radiance Boosting Powder (£38). The idea is to pour the powder into your hand, wet the small black sponge and then squeeze it in your hand to produce foam which is then applied to your face to cleanse. Although the idea is new and exciting, I feel like it's unnecessary and a bit too gimmicky.
The other cleansing product in the range is the cleansing balm (£44), which as we all know is a skincare product that's still quite hard to come by. I was really excited by the idea of this, it includes sweet almond oil and three essential oils; ylang-ylang, mimosa and geranium. Although essential oils can break some people out, I don't tend to suffer from this so I was keen to give it a go and also try it as a mask like they recommend. I found it took my makeup off well and I liked the thick formula, but unfortunately on the skin I found it to be a bit too heavy and it took a while to remove the oily residue.
Next up is the Multi-Use Exfoliating Clay (£44) which is the one I haven't really decided on yet. You can use the clay with a brush and apply it all over as a mask and I quite liked how it doesn't dry so it's really easy to remove with a cloth. You can also use it as an exfoliate because of the marble powder, kaolin and rice and oat powders it's really gentle but effective. It didn't wow me, but I didn't hate it. I think it's one I'll have to try over a longer period of time and get back to you!
So finally, the two products from the range that I really liked and will be adding to my everyday skincare routine, the
Infused Facial Water
and the
Protective Moisturizing Lotion
. The Infused Facial Water (£35) is essentially water infused with vitamins, minerals and the same rose extracts they use for their candles. The blend of flowers and plants means the water can be used as a toner before moisturising and it will help to cleanse, add radiance and moisturise the skin. You can also use this to mix with exfoliators or cleansers and I just love how it feels on the skin. I've been using it morning and night on a cotton wool pad and I just can't get enough of it, my skin feels so fresh!
The Protective Moisturising Lotion (£44) includes SPF so should be used as a day cream in the morning. You only need one small pump as the product really spreads around the face well and has intense moisture. It's infused with white lily and calendula and has the scent of orange blossom. I really like how it feels on the skin and have noticed a difference in the moisture levels of my skin throughout the day since using it.
I personally think the range is very much aimed at loyal Diptyque customers and because of the high price point it definitely won't be for everyone. It's an exciting new launch for one of my favourite brands though and two stand out products out of five is pretty good in my books. So what do you think about Diptyque doing skincare? Is it a range you'll be looking into?