MY CURRENT HAIR STYLING ROUTINE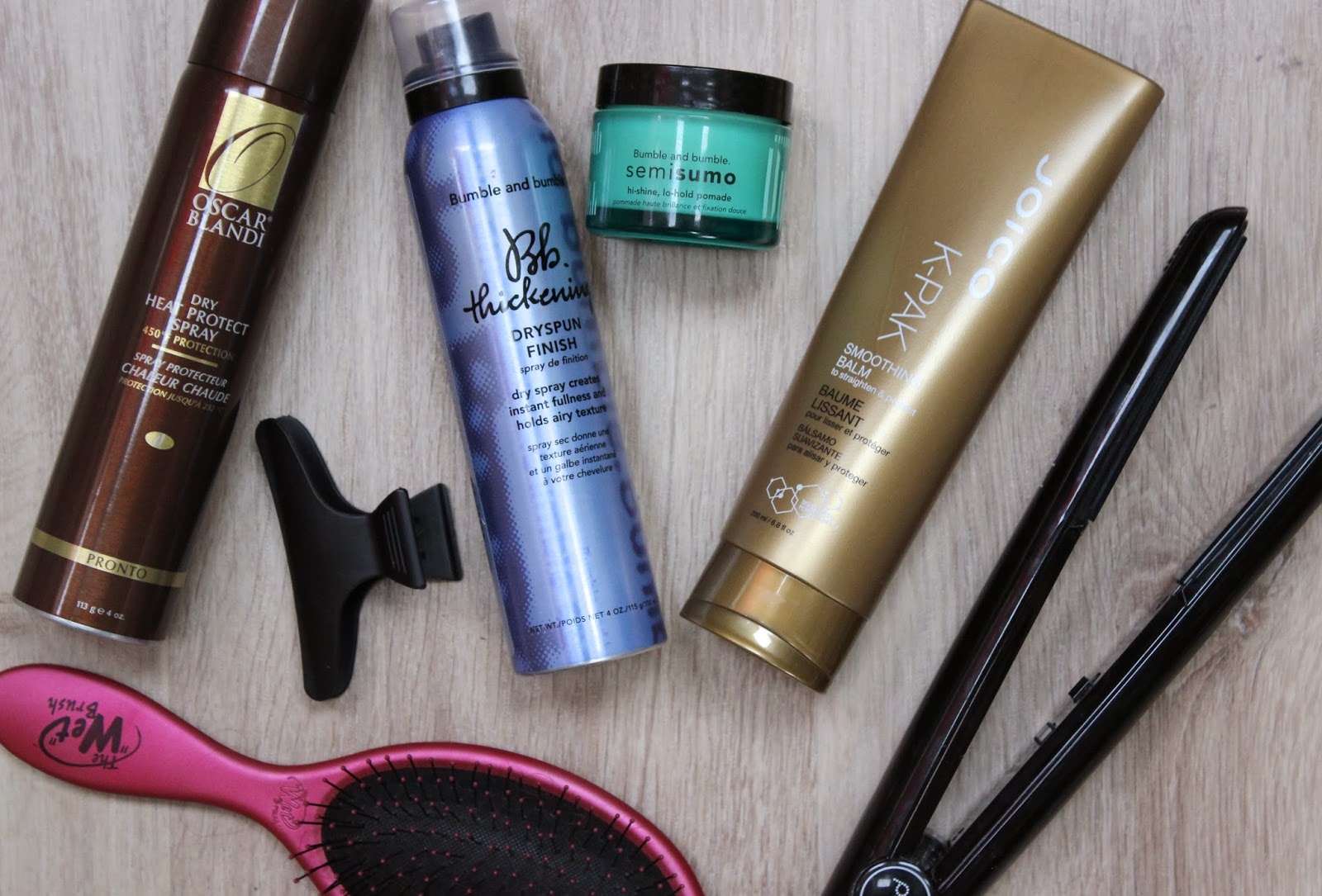 I've been getting loads of questions about my haircare routine recently, especially on YouTube so here's a breakdown of my current routine…
I've been fickle with shampoo and conditioner recently, reaching for whatever is in the cupboard, but when I get out the shower I reach of the same products pretty much every time.
I start by brushing through my wet hair with The Wet Brush. I've tried the tangle teaser (didn't work), I've tried the Michel Mercier brush (it broke) and so for the past 6 months I've just been using a paddle brush. That was until I discovered The Wet Brush and it is a seriously a miracle worker. It has a handle so is easier to use and it'll brush through any knots in seconds. It feels good on the hair and doesn't tug at all, so I'm a huge fan.
Once my hair is tangle-free I run the Joico K-Pak Smoothing Balm through the ends which helps to straighten and protect the hair. After leaving it to dry naturally I straighten my hair using my GHDs, doing section by section.
When my hair is completely straight it can look a bit dull and flat so I like to style it up using two types of products. For the root and body of my hair I use either the Bumble & Bumble Dryspun Finish or the Oribe Dry Texturising Spray, spraying it and massaging it in with my fingers. For the ends of my hair I use the Bumble & Bumble Semi Sumo which helps to take away any fluffiness, add a bit of texture and keeps it all in place.
Despite spending hours straightening my hair after washing it, I still wake up with half curly hair every morning. Having to straighten my hair every morning can be incredibly damaging so I've been on the hunt for a heat protector that didn't have to be applied onto wet hair and wasn't a spray or a cream. Amelia picked up this Oscar Blandi Dry Heat Protect Spray from America for me and it's perfect for what I need. I spray a small amount of this onto my hair before straightening it every morning and it doesn't feel at all heavy on my hair.
It's a routine that seems to be working for me at the moment and I love all the products. Do you use any of these?
SHOP THE POST