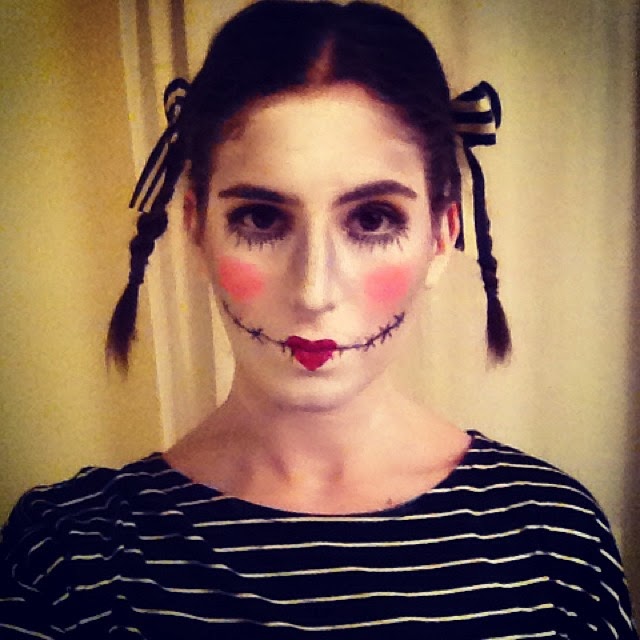 This year for Halloween I decided to go as some kind of dead, scary, creepy doll. Seeing as I dressed up a week early for the Daily Mix party I thought I'd run through how I created this look in case any of you needed a last minute idea for Halloween!
The great thing about this look is that you don't need an outfit as such, I just wore a stripey H&M top, a leather Topshop skirt, tights and some heels. A doll-like dress would work great with it! I tied my hair up in high bunches, plaited them and then tied stripey ribbons in a bow. This look is all about the face, so this is how I did it…
– Using a white face paint and a slightly damp sponge, cover your face and lips in white (avoiding your eyebrows). I found it needed a couple of layers after waiting for each layer to dry and don't forget your ears and neck!
– Once the white is dry, powder your face using either a white or translucent powder and a light hand so you don't move the white around.
– Using either a grey or brown cream eyeshadow (or face paint) contour your face. Add shadow just under your cheekbones, to your temples, under your chin, down the sides of your nose and a semi-circle to the front of your nose. Blend in lightly, careful not to mess up the white.
– Using a bright pink cream blusher, dab on a perfect circle of blush so it looks very un-natural.
– Use any dark eyeshadow and mascara you like for the lids (this bit isn't as important).
– Under the eye, use a liquid eyeliner to draw on fake eyelashes. Make some longer than others and go all the way to the outer corner of the eye. For extra creepiness, use a white eyeliner in the waterline.
– Using the black liquid eyeliner draw two crosses on each cheek and then use those to line up even lines either side of your mouth. Draw a few crosses along each line so they look like stitches.
– For the lips, use a long lasting lip liner like the Urban Decay 24/7 liners and draw a heart shape and fill it in.
That's really all there is to it! If you have some patience it should work out fine and it seemed to make quite an impact judging by the looks I got on the tube.
Happy Halloween, be safe and I hope you have fun!