OILS: PRE & POST CLEANSE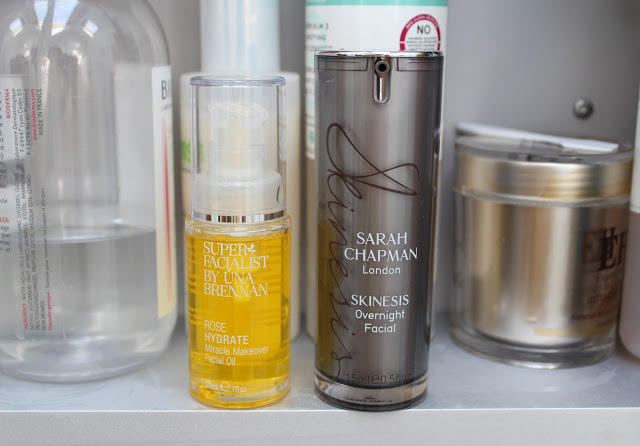 Oils are amazing for your skin, no matter what your skin type is! I've been using a couple of new ones recently and they've slotted nicely into my daily routine.
The Super Facialist by Una Brennan Boots range is one I've wanted to try for a long time but didn't know where to start. This pre-cleanse oil came highly recommended so I thought I'd start with that. You only need one pump in your palms and it will be enough for your face and neck. You're supposed to use this before you cleanse, so on top of a face of makeup. I like to work it quite slowly into the face, massaging as I go which is really good for your skin. Instead of wiping it off (and ruining a flannel), I like to just splash some water on my face and then continue to cleanse with my usual routine. It's breaks down the makeup well and prepares your skin for a deep cleanse.
I've also been using the Sarah Chapman Overnight Facial that I picked up from Space NK and I don't even know where to start with this… get ready for the rave train. I use it as my last step in my routine
every other night
in place of my moisturiser. It's like a serum/oil hybrid that applies nice and thick and leaves your skin looking incredibly radiant. I massage it into the skin really well before I go to sleep and when I wake up my skin is literally glowing. I can't rave enough about this, it's amazing stuff! The price tag put me off for a while, but I can now confirm it's worth every penny and I'd definitely repurchase.
Do you use any facial oils? Which one is your favourite?