LAZY GARDEN FACE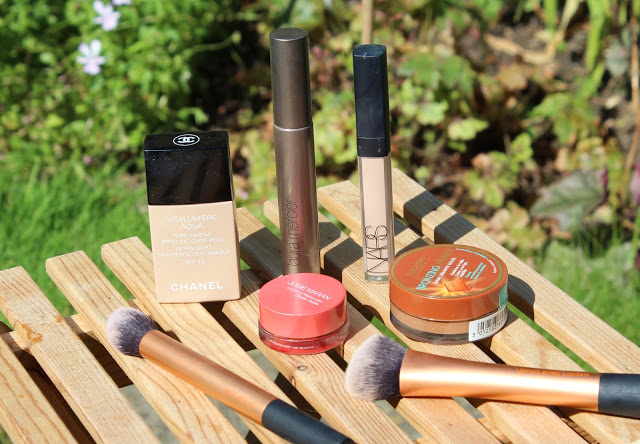 I'm not good at the minimal makeup thing. I like to keep things looking natural, but it can sometimes take a lot of products to get the flawless natural look and I genuinely enjoy putting makeup on. I tend to do all or nothing, but on this particular sunny day at home I tried out a Vivianna style 5 product face.
My Chanel Vitalumiere Aqua foundation is the perfect colour match for me so I find it's the best one to use when I only want to cover certain areas without applying it all over. I use my finger to blend a small amount into my chin and around my nose. I can't be without concealer and my NARS Radiant Creamy Concealer is quite high coverage so I use it under my eyes, around my nose and on my chin to smooth everything out.
To keep things simple I chose a cream bronzer and gel blush which both blend seamlessly into the skin. I dabbed the Bourjois bronzing primer onto my temples, cheekbones and down my nose before blending it with the Real Techniques Expert Face Brush. It gives a natural bronze that looks like a genuine healthy tan. Using my finger, I pressed the Josie Maran Watercolour blush onto the apples of my cheeks for a sheer wash of colour. It's not intended to be used on lips, but I find the formula also works well if your lips are in good condition and it gives a pretty pinch of colour.
For my lashes I wanted length to make up for the lack of eyeshadow and eyeliner, so I went for the Laura Mercier Faux Lash Mascara and just applied it to my top lashes.
The final look was fresh, natural and perfect for a lazy day in the garden.