CULT BRONZING POWDERS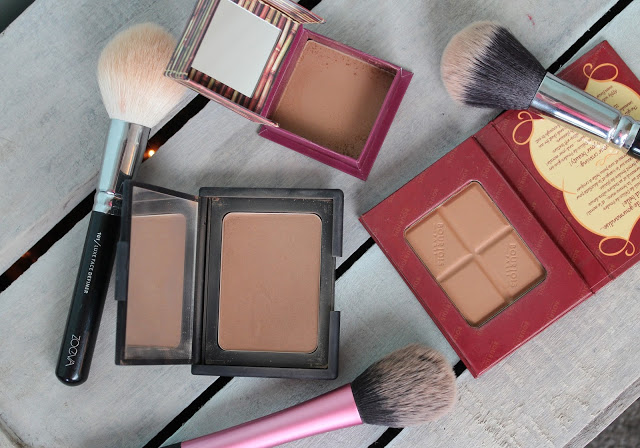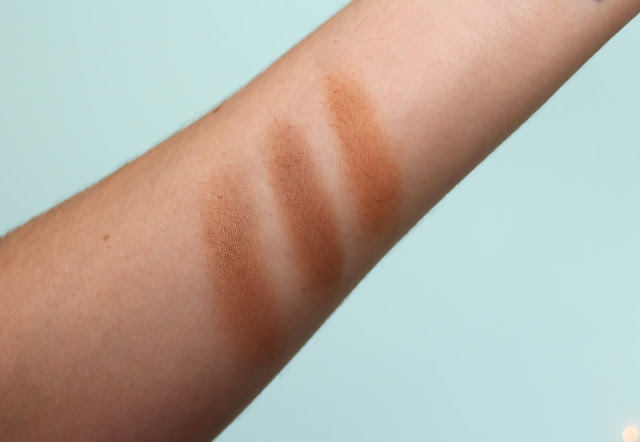 If there was a bronzer category on Family Fortunes then I'm pretty sure these would be the top three answers.
NARS Laguna, as you all know, has been my favourite for years. It gives a golden bronze that's not shimmery but not completely matte so it can be used as a contour or as an all over tan.
Benefit Hoola is a bit darker and muddier than Laguna so I wouldn't recommend it for those of you with paler skin. I find when I used this all over I really look like I've been on holiday and although it looks natural it is easy to go overboard with it. I found the packaging made it hard to get any excess product off the brush but if you swish the brush on the back of your hand that should work.
The Bourjois bronzing powder is a good option for those with lighter skin tones despite the swatch above looking very orange. I find if you apply it lightly, which is easy to do, it gives a natural bronze, but as you can see above it can go a bit orange when you layer it up so be careful.
My first choice will always be NARS Laguna as it is not orange, it's not muddy and it's not too sheer. I think a good tip when you're looking for a bronzer is to think about the sort of colour you go when you tan naturally. Some people go a 'dirty' brown, some go a slightly orangey brown, some go a bit red and some get a golden tan. If you buy a bronzer that matches your natural tanning shade it is bound to look more natural, so give that a try!
What's your favourite bronzer?
Swatches left to right & links:

NARS Laguna | Benefit Hoola | Bourjois Bronzing Powder