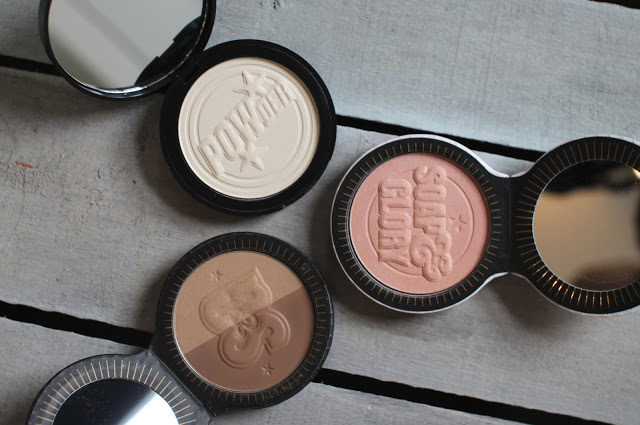 Soap & Glory is without a doubt one of my favourite drugstore brands. I'm not a huge fan of their skincare, some of their body bits have a permanent place in my bathroom but mainly it's their makeup that continues to blow me away.
I've recently been having an affair with their powders and they not only have cute names, packaging and beautiful embossing but they also do an amazing job!
I really think everyone needs a translucent mattifying powder in their collection. Even if you don't have oily skin (mine is quite dry), I find using a small amount of this on my t-zone really helps my makeup stay and any unwanted shine disappear. I don't want any extra coverage from my powder so translucent is perfect for me and this one is really smooth and gives you the softest skin.
I'm quite loyal to my NARS Laguna bronzer so I don't have many bronzers in my collection and I usually find they look very orange on me. The Solar Powder is a two-toned bronzer, one lighter and one darker so you can either mix them together for an all over glow or use the darker shade to contour and the lighter shade for a subtle bronze. I don't find this looks orange on me at all and for days when I want a less intense bronzer I opt for this one.
Luminizing Radiance Face Powder? Well that sounds right up my street! This is a peachy, shimmery powder that works really nicely just over blusher, slightly further up the cheekbones. There's no a huge amount of colour payoff, you get more of the shimmery affect, which is why I like to pair it with a nice peach blush.
These have all earned their place in my daily makeup stash and I'm loving them so far. Have you ever tried a Soap & Glory powder?