OILS, OILS, OILS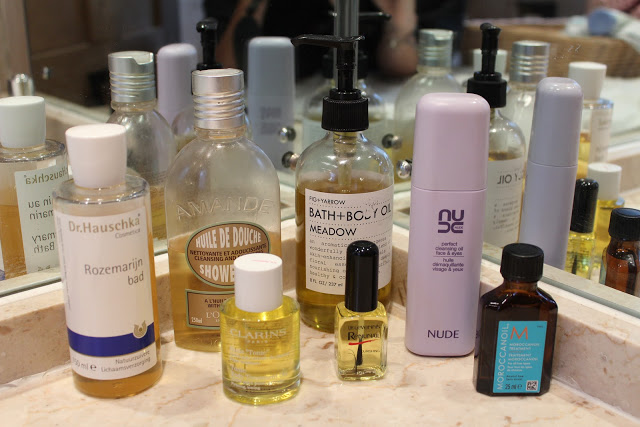 I seemed to have developed quite an obsession with oils within the past 6 months or so. You name 'em, I use 'em… bath oil, shower oils, face oils, body oils, hair oils, nail oils… seriously the list goes on.
It's not surprising really seeing as I am someone who is prone to dehydrated skin and dry hair. I love using oils in my bath or shower because it means I don't have to moisturise my skin when I get out (although I am a little bit in love with the NEOM body oil). The Fig + Yarrow Meadow oil is incredibly nourishing and I love the easy pump packaging. Dr Hauschka has always had a place in my family's bathroom as my mum is a fan and this bath oil is really relaxing and perfect for evenings. I like to use the L'Occitane almond shower oil after I've used a traditional 'clean' shower gel and it adds moisture back into my skin as well as doubling up as a great shaving oil! The Clarins Tonic Body Treatment oil is a new one for me but so far I am loving it. I have a mini version which is perfect for travelling and taking a mini spa along with you. I'll update on you on this one after a good trial period.
I've raved about the NUDE cleansing oil before and it really has become one of my favourite cleansers. I'll 100% buy another one when this one runs out as it takes off all my makeup and makes my skin feel amazing. On my cuticles I use the Dr Lewinns nourishing nail oil (that's when I remember to!) and although Mythic Oil is still my favourite, I also like to use the Moroccan Oil on the ends of my hair. I like this one because it comes in a tiny bottle so it's good for on the go, wind swept, dry hair moments.
Any other oil related products I should try? Go on, feed my obsession…
Dr. Hauschka Rosemary Bath Oil* | L'Occitane Almond Shower Oil | Fig + Yarrow Meadow Bath + Body Oil*
NUDE Cleasing Oil* | Morrocan Oil* | Clarins Tonic Body Treatment Oil* | Dr Lewinns Nourishing Nail Oil*