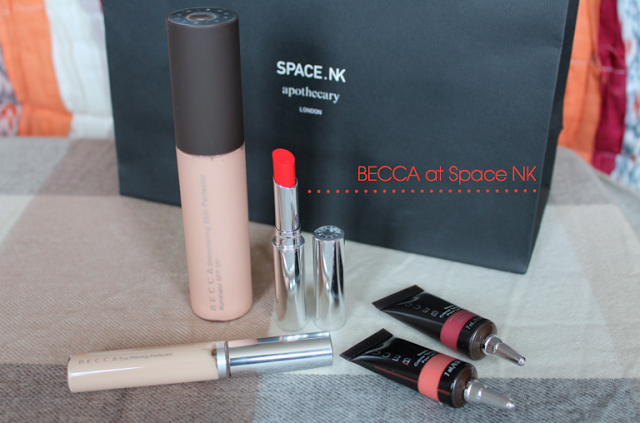 Yes, you heard right, Becca is back! There was a moment there where we all thought it had gone from our lives forever and we all bowed our heads in beauty sadness…
If you haven't heard of Becca, it is an Australian brand and they have some truly amazing products. Space NK sent me a few of their faves to show you and these will be in
Space NK
stores from April (no confirmed date yet) along with many other great products from their range.
The shimmering skin perfector is one you've probably seen the Pixiwoo sisters use as it's one of their favourites. It is a liquid highlighter that can either be used on specific parts of the face or all over to create a glowy base. I have the shade 'Opal' which is quite a peachy/golden shade so I wouldn't use this one all over my face as it would be too dark, but it works lovely on the cheekbones. It blends out really easily and sits nicely on the skin. I've also been using the eye priming perfector which is quite different to your usual eye primer as it has a slight shimmer to it. Once blended in it gives a gorgeous silky base and can be used on it's own or underneath eyeshadow.
The Becca beach tints are probably their most famous products and they're so cute! The beach tint is a water-resistant cream stain for cheeks and lips and it comes in an easy to use tube, perfect for a day surfing on Bondi Beach (I wish!). The shade Grapefruit is a pretty coral/peach and Watermelon is a deep pink. You only need a tiny amount and it blends out really easily. Finally, for the lips the ultimate matte lip colour in Aurora. I think this is the product that really showcases the quality of Becca products. For a matte lipstick it is incredibly moisturising, easy to apply, easy to blend out and light on the lips. The colour as you can see is a show stopper and well, I haven't got a bad thing to say about this lipstick. It's the perfect matte lipstick for matte lipstick newbies!
So have you tried anything from Becca before? Will you be popping into
Space NK
to have a look?
BECCA Shimmering Skin Perfector in 'Opal'* | BECCA Eye Priming Perfector*
BECCA Beach Tint in Watermelon & Grapefruit* | BECCA Ultimate matte lip colour in Aurora*