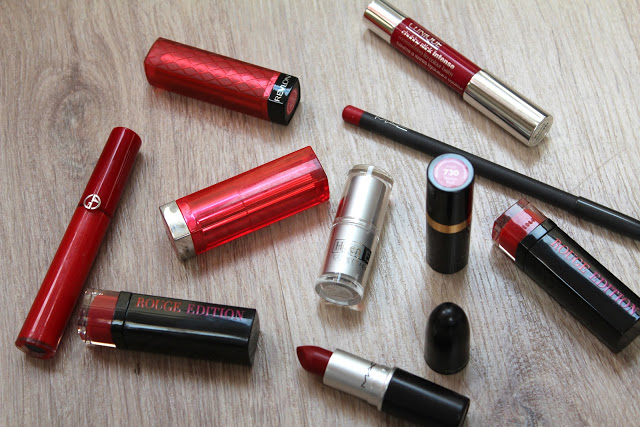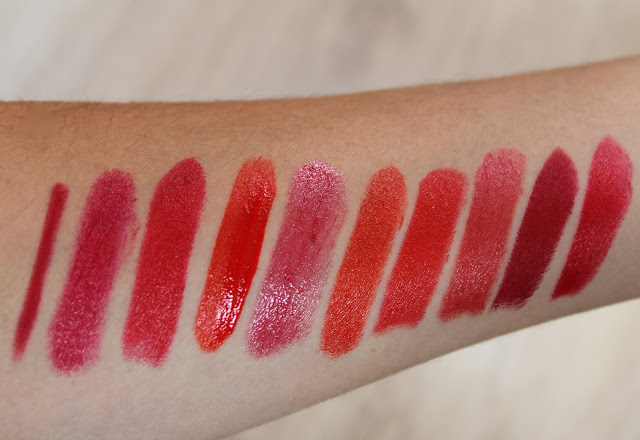 Thailand done, London Fashion Week done, now I must put my brain into gear for Paris… first thing I think of? Which red lipstick to take!
It's an important decision and I'm sure you beauty addicts will agree, so I dug out my red lipsticks from the lip drawer, swatched them all on my arm, tried on my top three and then picked the winner.
To my surprise the winner was the most random out of them all and what I like to call the underdog. And the winner is… the Helen E Cosmetics 'Hollywood Red' (third in on from the left) that I recently received in my Valentines GLOSSYBOX. I didn't think much of this when I saw it and the packaging is pretty basic and not particularly pretty. But when I put this on I instantly knew it was the perfect red and I absolutely love it!
But wait a minute, it's not just about the colour… I need a lipstick that's going to last all night at a party and will last all day through lunch and endless pharmacy shopping. So I put it to the test and it seriously passed. It lasted really well and even after a few hours when I had just assumed it would be faded, I looked in the mirror and it was still there, bright and in place.
So a huge thumbs up for this little lippie (which apparently you can find in some Debenhams stores), it's earned it's place in my handbag for Paris.
I'm off today so follow me on Twitter and Instagram (@lilypebbles) for annoying frequent updates and look out for the Paris vlog coming this Sunday!
Au revoir!
Swatches left to right | MAC Cherry lip liner*, Clinique Chubby Stick Intense Mightiest Maraschino*, Helen E Cosmetics Hollywood Red*, Giorgio Armani 401*, Revlon lip butter in Cherry Tart, Maybelline Neon Red, Bourjois Rouge Edition 10*, Bourjois Rouge Edition 15*, MAC Russian Red, Revlon Revlon Red*