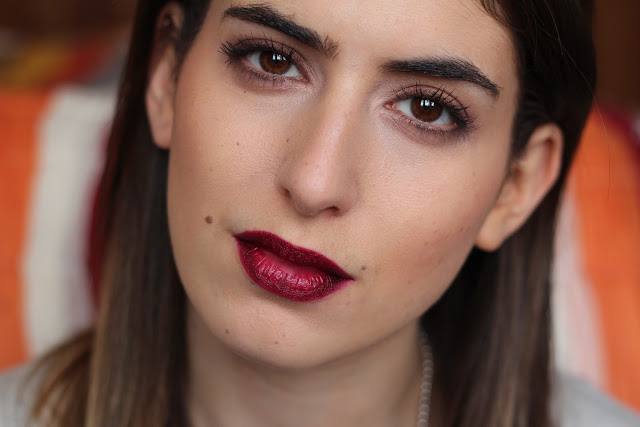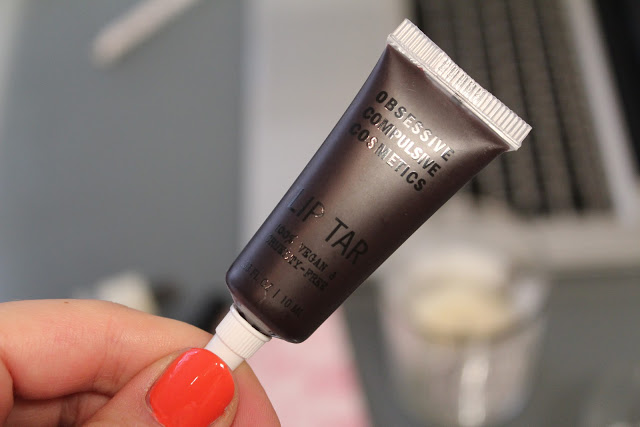 So let's talk about what is probably the most intimidating lip product on the market…
I've always heard so much about OCC Lip Tars and I've seen them at IMATS and dotted the niche beauty sections at places like Selfridges. They come in a little tube that looks more like a concealer than a lipstick and 'Black Dahlia' literally looks black in the tube. It's one of those products that sits in my lip drawer and I pick it up every now and again, look at it, tilt my head, then put it back cautiously.
But this time I thought I'd be brave and give it a go! It's 100% the type of lip product that you need to use a lip brush with. There is no applicator and a finger just wouldn't do the trick. I squeezed a little (tiny) bit onto the back of my hand and was surprised it was more watery than I was expecting. It's quite easy to work into the lips with a brush and felt more like a stain than a thick 'tar' like texture. Maybe a little bit like the YSL glossy stain, but don't quote me on that!
The colour wasn't black, phew! It came out a gorgeous, deep wine which looks a bit too gothic on me when pale but with a bit of colour it should look less striking. It lasted really well on my lips and didn't feel at all heavy.
The lip tars come in loads of different colours and some of the popular ones are stocked on Cult Beauty. They are definitely fun to play around with if you're into experimenting and the colours can be mixed together easily on the back of your hand. I'm glad I gave it a go and I might look into some of the more wearable colours now.
Are you a fan of OCC Lip Tars?
Obsessive Compulsive Cosmetics Lip Tar in 'Black Dahlia' £12*