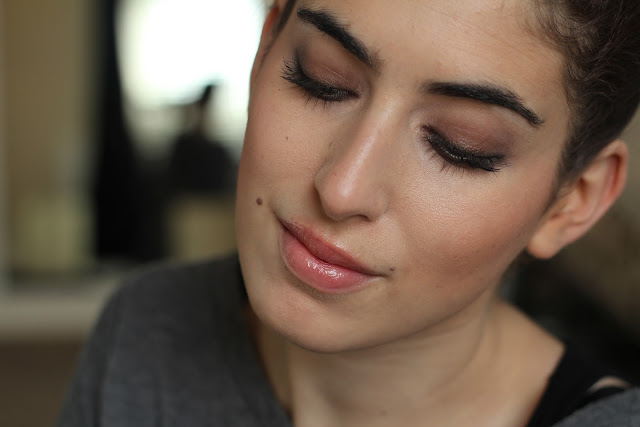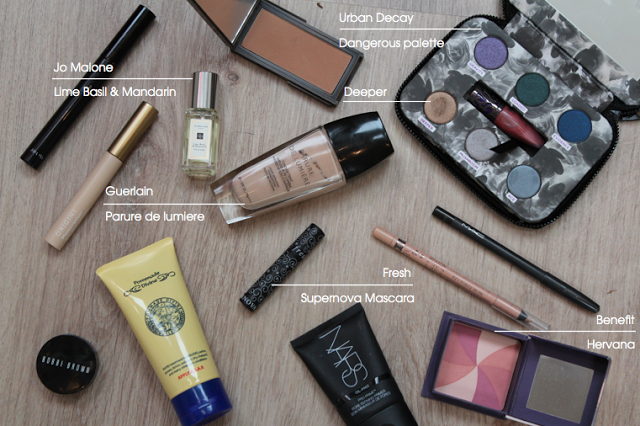 This WOMF post was taken on a lazy Sunday. I had a lot of things to do at home, so I took the opportunity to try a few makeup bits so if they were a disaster it wouldn't matter as I'd be at home!
For my base I tried out
Guerlain's Parure de Lumiere foundation
, which is a new one to me. It claims to be a light diffusing and moisture infusion foundation, which are both qualities I look for in a foundation. It applied really easily with either fingers or a brush and definitely felt very sheer and lightweight. It's hard to tell how 'light diffusing' it is, but now looking at the photos of this post, I can see that it did catch the light in all the right places. The colour match is perfect for me and I'm looking forward to wearing this more and seeing how it goes.
I warmed up my face with my
Jouer bronzer
and then for a change I used my
Benefit Hervana blush
, which doubles up as a highlighter. I find this blush really easy to use and it's hard to over do it, although the colours can be a little too cool toned for me. For my eyes I just used a wash of 'Deeper' from the Urban Decay 'Dangerous' palette with a bit of MAC's Buried Treasure eyeliner on the lash line. I absolutely love this eyeshadow, it's a pretty bronze and isn't too shimmery. The eyeliner is an old favourite of mine, a brown/black with gold flex, and it makes the perfect liner. I also tried out a sample of the
Fresh Supernova mascara
and so far I'm impressed! It has quite a big brush and gave my lashes quite a lot of volume.
I left my lips and just added some
Pommade Divine
, as you can probably see they were a bit sore. I also spritzed on a bit of my
Jo Malone Lime Basil & Mandarin
sample, but I immediately regretted that decision. It's definitely not my kind of scent, but it's one of their most successful, so maybe try it for yourself.
So what do you think of today's face?
Lily xx
HD Brows Brow Beater | Jouer Hydrating Bronzer* | Urban Decay 'Deeper'*
Jo Malone Lime Basil & Mandarin | Origins Plantscription Concealer*
Guerlain Parure de Lumiere 'o2 Beige Claire'* | MAC Buried Treasure eyeliner
Rimmel Scandal Eyes in Nude* | Benefit Hervana blush* | NARS primer*
Fresh Supernova mascara | Pommade Divine* | Bobbi Brown Corrector