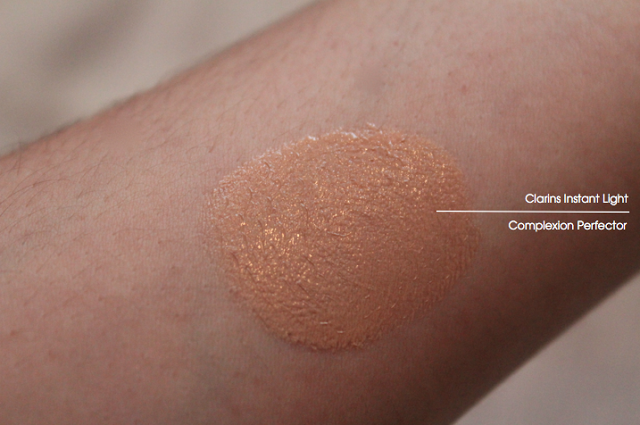 You know when you try something new with your makeup, you check yourself in the mirror and then you just think…. yep, exactly what I was hoping for.
I think the question I am asked most, especially by my friends is how to get glowy/dewy skin. Now there are many different ways, but this product from Clarins has quickly been added to the glowy/dewy list. The Instant Light Complexion Perfector is a creamy product that kind of feels like a tinted moisturiser. It's a radiance boosting 'complexion perfector' and I use this two ways. I've tried using it on it's own and it didn't do much for me, I then tried it under my foundation which I really liked. It provides a really nice base and makes your skin look really fresh. My favourite way to use it is to mix it in with my foundation and the one I find it works best with is my Laura Mercier Silk Creme.
Although I like my Silk Creme, it does feel a bit like thick paint sometimes and mixing the Clarins in makes it so much lighter and it looks much better on my skin. It's my favourite combo at the moment!
The Complexion Perfector comes in three shades and I love it! I actually prefer using shade 01 as I'm quite pale at the moment, but 02 will be a great Summer shade.
Lily xx
Laura Mercier Silk Creme Foundation in Cream Ivory | Clarins Instant Light Complexion Perfector in 02*