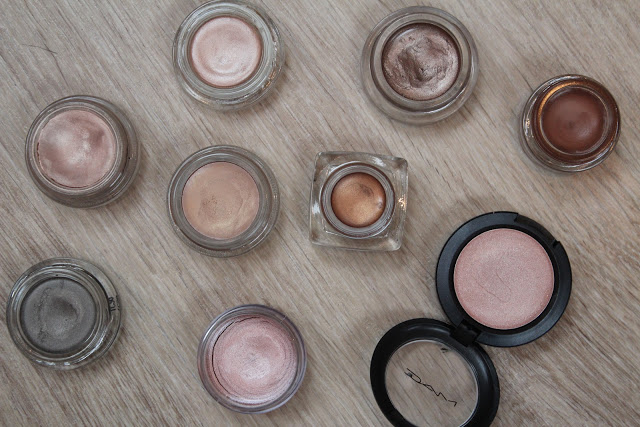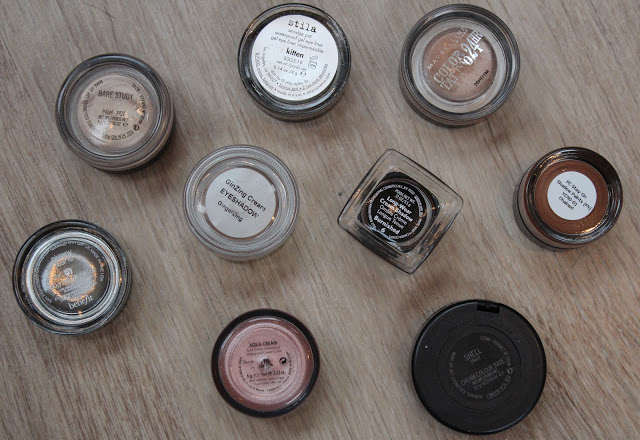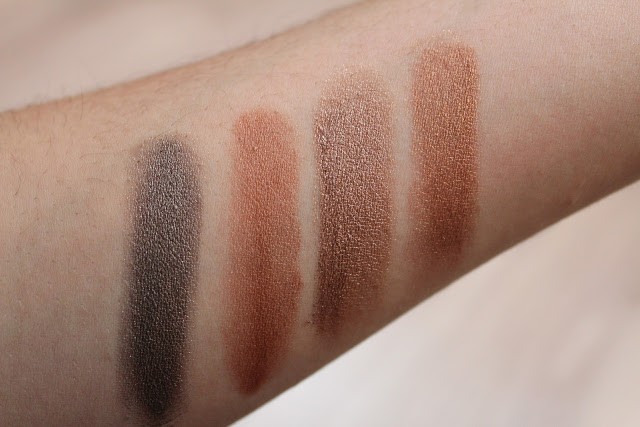 Swatches Left to Right
Benefit Creaseless Cream Shadow 'Skinny Jeans' | Estée Lauder Stay-On Shadow Paint 'Chained'*
Maybelline 24hr Color Tattoo 'On and On Bronze' | Bobbi Brown Long Wear Cream Shadow 'Burnished'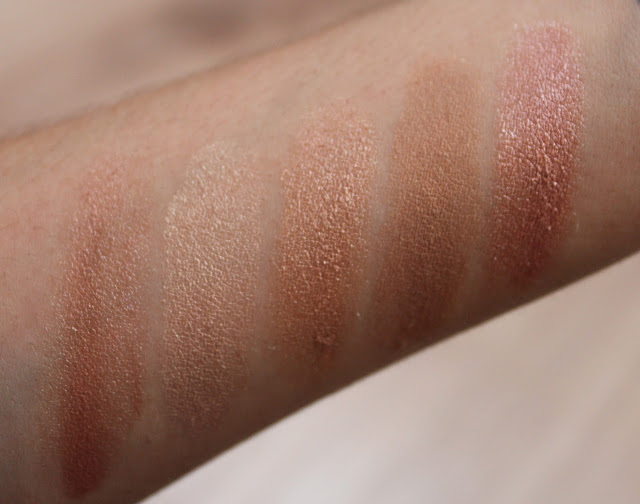 Swatches Left to Right
MAC Cream Colour Base 'Shell'* | MAC Paint Pot 'Bare Study' | Origins Ginzing Cream Eyeshadow 'GingerZing'*
Stila Smudge Pot 'Kitten' | Make Up Forever Aqua Cream Shade 16
I am a massive fan of cream eyeshadows. They are incredibly easy to apply, they never look over the top and they last really well throughout the day. I thought I'd show you some of the ones in my
collection
(yes, these are just some) as I find swatch posts like this really helpful when I'm looking to buy a new makeup product.
Let's start with the one that I probably use the most, the Maybelline 24hr Colour Tattoo in On and On Bronze. I forgot to feature this in my 2012 beauty favourites video, but it definitely should have been in there. I absolutely love this colour, I apply it with my fingers and it lasts ALL day. I like it on it's own but also as a base under a smokey eye. The Estée Lauder Stay-On Shadow Paints are new (to be launched in Jan) and when I went to swatch 'Chained' I was
surprised at it's soft texture that felt more like a mousse than a hard cream like the others. The fact that it's so soft means it's really easy to blend which I really like. I recently picked up the Bobbi Brown long-wear cream shadow in 'Burnished' when I was in Bicester Village. I love the Bobbi Brown cream shadows and this one is an orangey, bronzy gold which is so pretty and unique.
I also always reach for my MAC paint pot in 'Bare Study' which is a lovely
champagne colour, quite similar to Stila's Kitten Smudge Pot, but Kitten is a bit more peachy and the formula is quite chunky and less creamy than Bare Study. The Origins Ginzing cream shadows are also lovely and very similar to the MAC paint pots. When I was in America last year I picked up a few of the Make Up Forever Aqua Creams and although these come in some great colours, I really can't stand the strong chemical smell of these, it's really awful. I probably wouldn't buy any more purely for that reason.
So there's my cream base roundup of a lot of products that are all pretty similar. I have so many it should be illegal, but for some reason these are really addictive and I keep buying more!
Do you have a favourite cream shadow base? Let me know what it is if you do!