Winter Skincare Part 4: Moisturise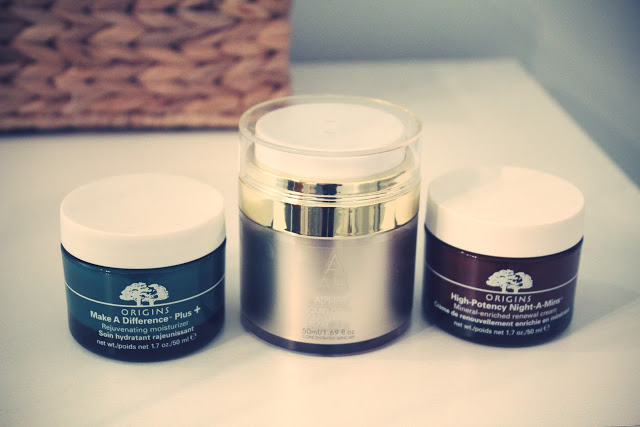 Origins Make A Difference Plus* | Alpha H Liquid Gold Rejuvenating Cream*
Origins High-Potency Night-A-Mins*
So this is it, the final part of my winter skincare posts. My skin is quite dehydrated and can occasionally get dry so moisturising is really important for me. These are the ones I'm trying out at the moment and so far I'm really happy with all of them.
Origins, as you know, is one of my favourite brands and their moisturisers are really great. The High Potency Night-A-Mins is a very thick night cream that smells of oranges and leaves a thick layer of moisture on my skin before going to sleep. This is my favourite to use at night, especially when I'm feeling dry and for those of you who have oily skin, this also comes in an oil-free formula. The Origins Make A Difference Plus rejuvenating moisturiser is more of a gel consistency and it feels really refreshing on the skin. I find that I can use this one in the morning before applying makeup because although it's super hydrating, it's not heavy and sinks into the skin quickly.
The final product and newest one to me is the Alpha H Liquid Gold Rejuvenating Cream and this will be available in the UK in April. I was told to use this on the nights I wasn't using the Liquid Gold, and the Glycolic base will help hydrate the skin. This has just been repackaged in a new tub and when you press down the lid it releases just the right amount of product for your face and neck. I obviously have quite a small face and neck as it's always too much for me, but the soothing cream feels really nice to apply all over so I'm happy to have a bit extra. Another slight downfall of this packaging is that you can't see how much is left so that pump squeeze of product might come as a shock.
I find myself reaching for the Origins Night-A-Mins the most these days and I really love it, but all of these are high on my favourites list.
What's your favourite moisturiser?