Winter Skincare Part 2: Exfoliate & Hydrate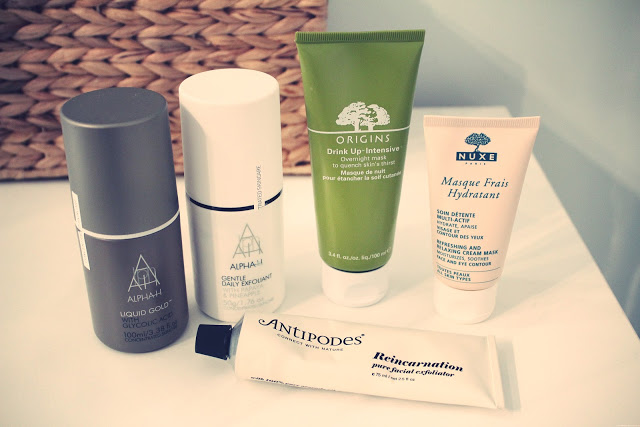 Alpha H Liquid Gold* | Alpha H Gentle Daily Exfoliant* | Antipodes Reincarnation
Origins Drink Up Intensive Mask | NUXE Refreshing and Relaxing Cream Mask
You can read my winter skincare routine part 1 here if you missed it!
I've heard so much about Alpha-H products but never felt like I needed them. Not only have I got a ridiculous skincare cupboard but I also have very easy, non-problematic skin. A couple of weeks ago I had the opportunity to meet Michelle Doherty, the founder of the brand. Her and her daughter were over from Australia and Anna and I literally spend an hour and a half chatting to her about anything and everything. She gave me a couple of her star products to try and although it's only been a couple of weeks I can already see a difference. I told her I didn't think I needed to try Liquid Gold because I have quite good skin and she told me once I try it I'll notice that my skin can be even better. She was right.
I can't possibly explain to you how it works after Ruth did such an incredible job. Michelle herself has read and shared Ruth's post with everyone! I simply use this after cleansing on a cotton wool pad and then that's it for the night. When I wake up the night after using this my skin looks more plump, radiant and healthy. Glycolic acid is a pretty amazing ingredient but don't be scared of the word 'acid' like I was, it doesn't burn your face off! It makes your skin work harder at balancing out it's PH levels which in the long run is going to be amazing for your skin.
The Alpha-H daily exfoliant is a strange but marvellous product. It is a powder, which I did not expect. You mix it in your hand with water and the fruit enzymes, green papaya and pineapple help to remove dead skin cells, which helps your moisturiser actually do it's job properly.
The Antipodes Reincarnation is a nice cream exfoliator that I've never had problems with and is full of natural ingredients.
Now onto my hydrating masks – well done if you're still reading, not long to go! Origins Drink Up Intensive is one I've spoken about loads so I won't go on – it's incredible, try it! The NUXE mask is a new one that I picked up in Paris and it's a very creamy, soothing and refreshing mask. It's perfect if you think your skin is feeling a bit sensitive due to the cold weather.
Part 3 will be up next week, so what do you think of my Winter skincare products so far?