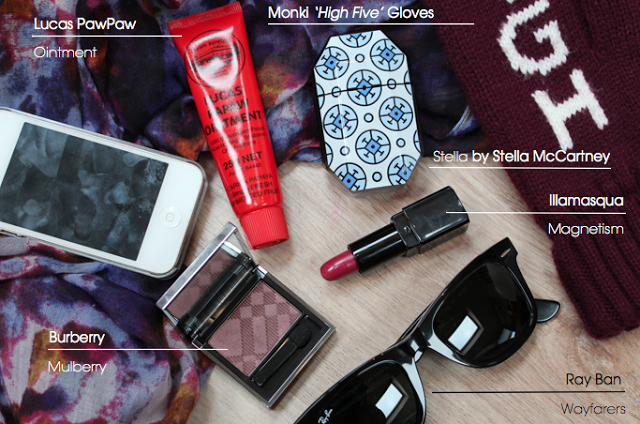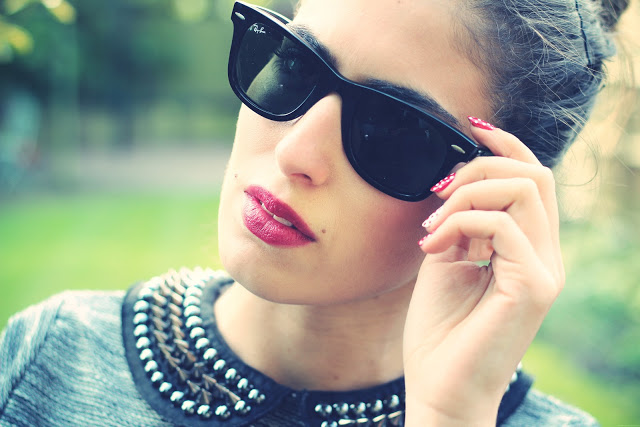 Ray Ban Wayfarers* | Pull & Bear top
It's rare, but something I really love during Autumn is a sunny day. There's something about a cold, crisp, sunny day that makes me really happy. Amazingly, yesterday was one of those days so I made the most of it and went outside.
I've been using the Lucas Paw Paw Ointment since I asked my friend Keisha to bring it back for me from Australia a few weeks ago. I'd heard loads about it as it's one of those cult products that you can't get here. I'm not sure how I feel about it yet. It does moisturise your lips really well and any other dry patches, but it's not that pleasant to use on your lips as it's made from fermented papaya and personally all I can smell is rotten fruit. I'm still using it though in hope that I'll get used to the smell.
I've been reaching for my warmer, richer eyeshadow and lip colours and I love the combo of Burberry 'Mulberry' and Illamasqua 'Magnetism'*. Mulberry is mix between a taupe, plum and brown and suits my brunette complexion really well. Magnetism, which I spoke about here is a deep raspberry pink and as it's quite dark it's the perfect Autumn lipstick.
Sunnies are a must and of course, don't we all love Ray-Bans sunglasses? These one's are from Sunglasses Shop who are known for stocking pretty much every sunglasses brand out there including Chanel, Miu Miu and Tom Ford. Wayfarers are probably the most popular out of all the Ray Bans and the Ray-Ban 2140 wayfarers are my absolute fave. Who says sunnies need to be put away in Winter?
So all that, my Stella perfume and my Monki gloves and I'm ready for a Sunny Autumn day. Lovely!
Happy Halloween by the way! If you're out tonight and need some inspiration, check out the video I did with Gemma here.