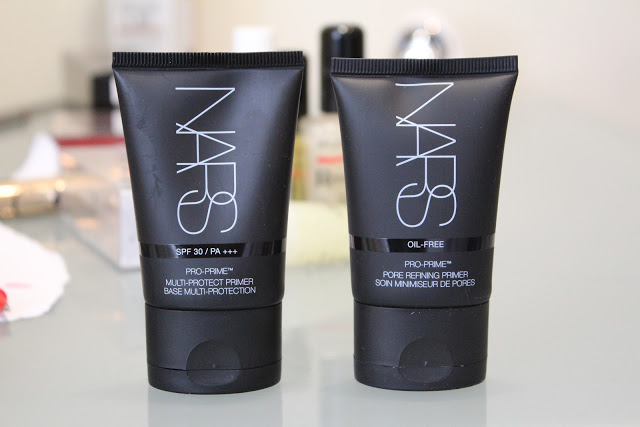 I'm Lily and I'm a primerholic. It's a step in my routine that I will never miss out. I think most people think primers are only for those with oily skin but that's so not the case.
The first reason why I wear primer is to keep my makeup on all day. Although I don't have oily skin, in fact it's quite dry, my base makeup seems to vanish by the end of the day. My theory is that my skin is so dehydrated it soaks in all the moisture from my makeup leaving me with a barely there, patchy makeup look by the end of the day. The second reason is to protect my skin. As you're all aware, I'm a Londoner which means, tubes, buses, pollution, cold weather etc so I also use a primer to create a barrier between my makeup and my skincare.
For someone who loves primers I think it's pretty strange that I've only used one for the past few years. I've stuck to my Laura Mercier primer and re-purchased it many times – why change something that's not broken eh? But I'm a beauty blogger so trying new products is what I do. I was excited to try out these NARS primers, in fact I was genuinely intrigued to find out if anything lived up to my all-time favourite.
There are two NARS primers available, the Multi-Protect and the Pore Refining. Let's start with the Pore Refining one as I think this will suit most skin types. It's oil-free which is great and it applies like a dream. It comes out as a white creamy liquid and sinks into the skin very easily, leaving a soft and even base. This one doesn't have SPF so if that's something you look for in a primer then this one isn't for you, although you should be using a moisturiser with SPF in, so it isn't a big deal. The Pore Refining primer feels like a traditional primer does and is quite comparable to my Laura Mercier one (even though the LM one isn't oil-free).
The Multi-Protect primer has an SPF of 30 and PA+++ which is really good, obviously wearing an SPF is really important. This one is quite different to other primers I've tried. It's like a cream texture and feels pretty similar to a moisturiser. This one would be great for drier skin types. It takes a bit longer to dry because of the thicker texture but once it has it leaves the skin feeling soft and hydrated.
To be honest, I think both work equally well at keeping makeup on all day. I can imagine the Pore Refining one being the most popular as it's more like a traditional primer, quick to use and will keep shine at bay. But if you're looking for extra moisture and feel like primers can dry you out, then the Multi-Protect is perfect! It's really just preference. But if you're looking for a new primer I recommend you try these out, as just like most NARS products, they didn't disappoint!
Have you tried either of these NARS primers?