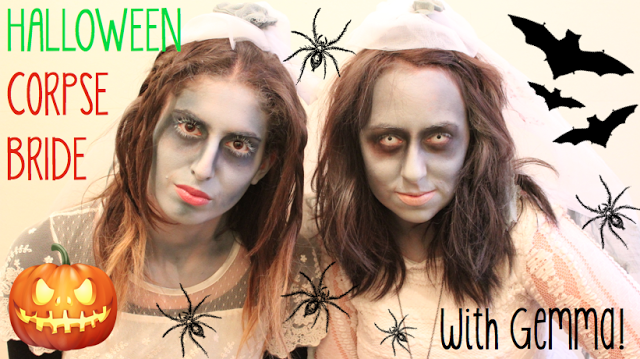 For those of you who haven't yet seen this video, I wanted to get it up before Halloween in case you wanted to give it a go!
Gemma and I went to a Halloween party last week and decided to go as corpse brides. We had no idea what we were doing and kind of made it up as we went along. If you're patient though and have the right makeup and tools, it's pretty easy. All you need is a grey cream base (we bought a black and white from Claire's) some black and dark blue eyeshadows (maybe a bit of purple too) and lots of makeup brushes!
Hope you like watching us get ready and please send me a photo if you try it yourself! Happy Halloween!!
If you read my blog and have seen my videos on here but haven't really got into YouTube yet then I really recommend you create a YouTube account and subscribe to the channels you like. For those of you who know what 'subscribing' means, stop reading now and sorry if you think this is patronising, but I know that a year ago I had no idea what everyone was talking about when they were saying 'subscribe to my channel'. All you have to do is find the people you like to watch on YouTube and click on the 'Subscribe' button on their YouTube page. This just means that when you log into your YouTube account and go to 'subscriptions' you will get updated when any of those channels have uploaded a new video. I became obsessed with watching beauty videos about a year ago and there are so many great ones out there. If you want to be updated when I upload a new video then please subscribe here. If you don't want to, then just keep an eye on the videos in the column on the right of my blog for new videos!
Right, I'm off to see Singing in the Rain now with my mum – yay!