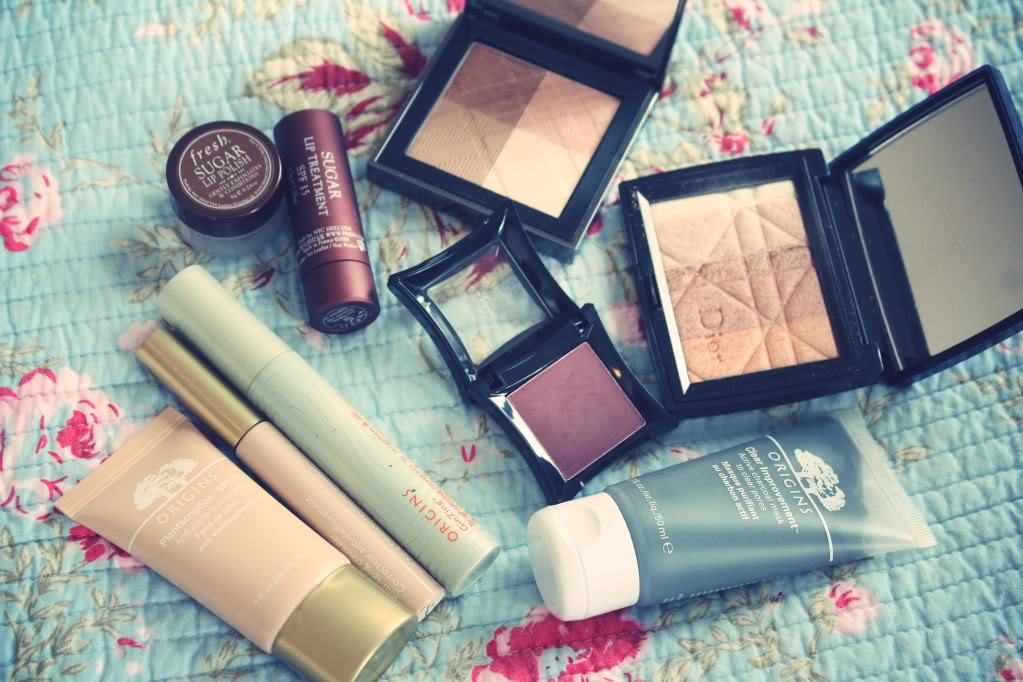 Burberry Sheer Summer Glow Palette*
What a beautiful highlighting palette this is. It consists of 4 colours, 2 for bronzing and 2 for highlighting, which means its a real multi-pupose product. The quality is amazing and I've really enjoyed using it.
Dior Amber Diamond Highlighter
I caved and finally bought this after hearing so many great things about it. This highlighter is much more shimmery than the Burberry with 4 colours, ranging from a white, to champagne to a more orangey bronze.
Origins Plantscription Concealer*
This is everything I could ask for in a concealer, it's moisturising, the perfect colour match and lasts really well on my skin. It reminds me of the Collection 2000 concealer but without the cakey look that it sometimes gives me. This is good for people with dry skin.
Origins Plantscription Foundation*
I'm going to make a pretty bold statement here… I think this is my favourite foundation I've tried. WOAH! I'm pretty fickle, so that doesn't actually mean much, I'll probably find a new one soon, ha. But seriously, I love this foundation. It's quite sheer depending on how you apply it and it's very moisturising, I also find it lasts all day on my skin. I'm really impressed by this and have loved using it.
Origins GinZing Mascara*
Another fabulous product from the new Origins makeup range, I swear I'll stop raving about Origins soon. This mascara is supposed to lengthen and brighten but I also think it's amazing for volume. The brush is massive and you hardly have to touch the lashes to get the volume and length.
Real Techniques Stippling Brush (missing in photo)
I've fallen back in love with this brush after spending months using the buffing brush for foundation. I think this one works better for sheer foundations and tinted moisturisers.
Origins Clear Improvement Mask*
This mask is pretty scary to use as it's a thick, black and looks like tar. It's the strangest thing because when it's on I feel like it's so refreshing and sort of zingy. I love how it feels and although it's a bit tough to wash off, it leaves my skin feeling really good.
Fresh Sugar Lip Polish & Lip Treatment
This is my favourite evening lip combo and works a treat on my dry lips. The lip polish is a lovely sugar scrub that tastes amazing and the lip treatment is the best lip balm I've tried with ridiculous lasting power.
Illamasqua 'Forgiveness' Eye Shadow
I saw this eye shadow at an Illamasqua makeup masterclass that my mum and I attended, they used it on her and I fell in love with it. It a purple, plum, brown (I couldn't pick which colour) and works really well in the crease and under the lower lash line. It really suits my skin tone and hair colour so I've been using it a lot.
So there are my monthly favourites! Do you like any of these too?