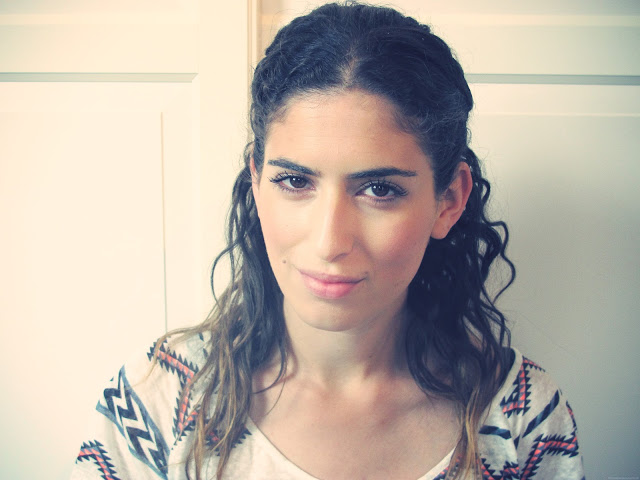 Origins Plantscription SPF 15 anti-ageing foundation*
Bobbi Brown Corrector
Origins Plantscription Anti-Ageing Concealer in*
Burberry Warm Glow 01*
Burberry Sheer Summer Glow, Natural highlighting compact*
MAC Blush Baby
HD Brows Brow Beater
Origins Ginzing Cream Eyeshadow in Gingerzing*
Origins Ginzing Brightening Mascara*
MAC Satin Taupe
I'm excited to introduce quite a few new products in this post. First of all, the new makeup from Origins. I was recently introduced to this range and although excited I was a little sceptical at the thought of it. Origins is known for it's amazing skincare and sometimes when skincare brands branch out to makeup it all goes terribly wrong. Luckily I was incorrect and I'm pleased to tell you that I LOVE the range.
The star product is the Ginzing Brightening mascara, which is supposed to lengthen and lift your lashes and is one of the best I've tried. It's comparable to the Bourjois Volumiser as it has a massive brush and gives a lot of thickness as well as length. The formula includes caffeine which helps the lashes to look healthy and vibrant. I'd definitely recommend going to check it out as the brush is quite unique.
I also really like the new Plantscription foundation and I'm wearing in the shade 02 light neutral. It's an anti-ageing foundation that super moisturising and gives a medium coverage, depending on how you apply it. I used my beloved buffing brush to apply it and it lasted around 10 hours which is longer than most foundations last on me. This foundation uses the soft focus technology that everyones going mad about at the moment, which is why it's so good at disguising any fine lines or wrinkles. Another great thing about this foundation is that it's available in 12 shades, which is a very decent amount. I'm pretty sure this will make an appearance in this month's monthly favourites.
The foundation gives good enough coverage on blemishes but I used a little of their new Plantscription anti-ageing concealer for under my eyes and I can tell you it blends beautifully. It reminds me of the Collection 2000 concealer in terms of coverage, but without the cakey dry patches that it sometimes gives. You can tell when using the foundation and concealer that unlike a lot of makeup, these are actually doing good for your skin and they feel nourishing.
Another new product to the range are the Ginzing cream eyeshadows and this one which is Gingerzing is very similar to MAC's Bare Study. I wouldn't recommend it as the best cream eye shadow I've tried, but it did create a nice base and was easy to apply with my finger. Just to add to this, I used my Satin Taupe eyeshadow along the top lash line.
On my face I was so excited to use my new Burberry bits. The Warm Glow bronzer is a lovely bronzer, which I used to contour with. It gives a really nice subtle warmth to the face and is easy to build up. I then used the lighter shades from the Sheer Summer Glow palette as a highlight along my cheekbones. Both products used together are just pure perfection for summer makeup. To add a bit of colour I used MAC's Blush Baby which is a nice natural blush colour. Nothing on the lips… sometimes it's just not necessary.
So what do you think? Any of these products make you squeal with excitement?
Lily xx
Origins Ginzing Mascara and cream eyeshadow out September 2012
Plantscription collection out August 2012
I'm currently running a NEOM candle giveaway on my YouTube channel, find out how to enter
here