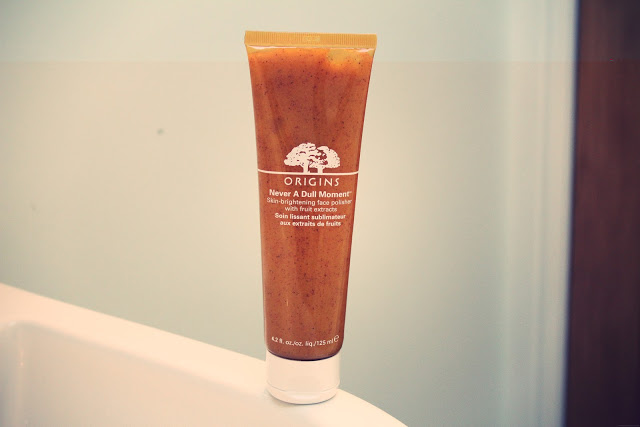 Origins 'Never a Dull Moment' – £24.00*
More Origins… can you guess what my favourite skincare brand is at the moment? I really wanted to try an exfoliator and hadn't really heard much about the 'Never a Dull Moment' so I was intrigued. It comes in an orange tube and the product itself is orange too… I'm not sure how I feel about orange, but I still went ahead and gave it a go!
As this exfoliator has bits in it, I was expecting it to be gritty and quite harsh, but it's in fact a lot more gel like than I thought. It smoothes over the skin very easily and doesn't really feel like an exfoliator at all. You can hardly feel the bits in it, so I was a bit sceptical whether it would work. Origins say "Nature's potent enzyme from crushed Papaya, helps to dissolve lacklustre cells and gobbles them up with no irritating friction". It really does work! Once i washed off the orange goo from my face, my skin was left incredibly soft and smooth. Like most Origins products, it smells gorgeous too.
Have you tried this exfoliator? Do you prefer harsh exfoliators or more gentle exfoliators?