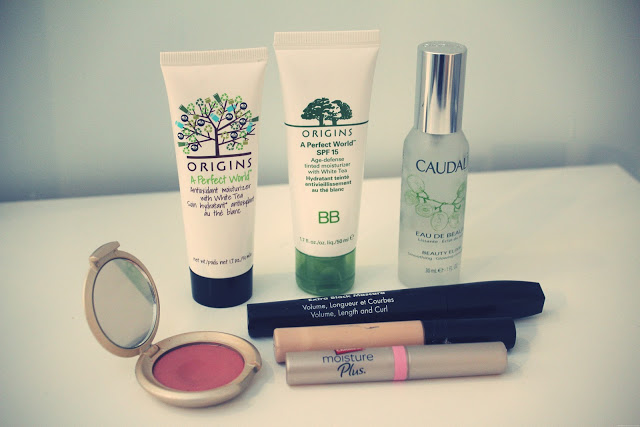 Origins 'A Perfect World' moisturiser*, Origins BB cream*, Caudalie Beauty Elixer,
Elizabeth Arden Ceramide cream blush in Nectar, Make Up Forever Smoky Lash mascara,
Collection Lasting Perfection concealer, Carmex moisture plus*
I woke up on Sunday morning thinking I was going to die and I'm sure most of you have been there before. It was my best friend's birthday, I had an amazing night but the day after was extremely painful. Usually in this case I would just sleep until I am forced to get out of bed, but in this case I'd made plans to meet some friends for breakfast at 11am! This is where the hangover makeup routine comes in…
When you're hungover you're very dehydrated (hence why drinking water at the end of the night helps with the hangover) and the same applies to your skin. What I need from my makeup routine in this situation is something very quick and easy. I start by spraying on a little of the Caudalie Beauty Elixer as it helps to wake me up and refresh my skin. I then
use the thickest moisturiser I own, the Origins 'A Perfect World'. This really helps to put the moisture back into my skin; I literally layer it on. I personally avoid any foundation as I haven't got the energy to use a brush to buff it in and also my skin is never in the right condition to be pilling on heavy makeup. The Origins BB cream is perfect as it's super moisturising and easy to apply with your hands. It gives a nice amount of coverage and leaves my skin looking healthy and glowing. I use a little bit of the Collection concealer, using the easy applicator to apply it under my eyes, around my nose and on my chin. I usually need a bit of colour (to hide the green) and always opt for a cream blusher. The Elizabeth Arden one is really nice, easy to blend with your fingers and contains vitamins A,C and E. I don't get busy with eye shadow or eye liner, I just simply apply a nice mascara like the Make Up Forever Smoky Lash. My lips are usually quite dry so a lip balm is a must! The Carmex moisture plus is really nice as it also has a little bit of a natural pink tint.
So that's it… my hangover makeup routine. I'd love to say this routine hides my hangover, but I think sitting at breakfast with my head in my hands gave it away!