My Camera Journey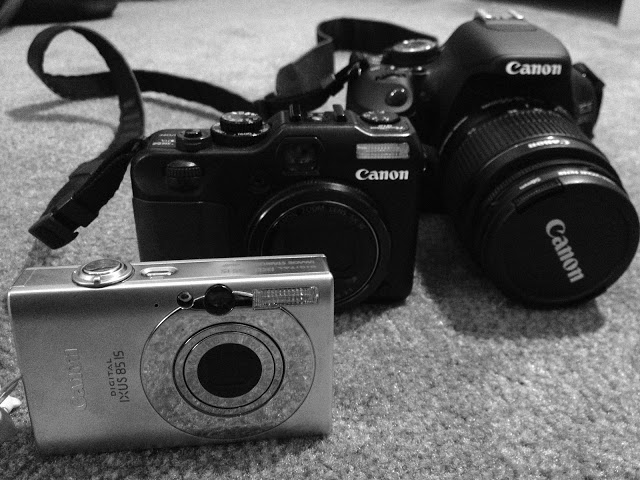 I've always loved photography… amateur or not, I think if you get a thrill from taking photos then you can say you love photography. They didn't offer photography at my school so I taught myself everything I needed to know and spent most my spare time snapping away.
I probably got into photography when I was about 16 but didn't feel the need to get a big fancy camera, I was ecstatic just to get my little Canon IXUS 85 IS. You'd be surprised at how much these little cameras can do and it lasted me all through travelling and Uni.
After Uni when I started to get more into my blog, I wanted a camera that was better than the average digital camera. I didn't think it was necessary to get a DSLR as I knew I wouldn't use it for what it's worth. The Canon G12 powershot was the perfect choice! It's small enough to carry around but the quality of photos it takes is incredible. It can do HD filming and has so many settings I can't even count. Another thing I love about this camera is the flip screen so you can see yourself when taking self-timed photos or filming a video. You can't change the lens on this camera but you can buy fancy filters to clip on the front, such as a fish eye. This is a great camera if you want to get more into photography because you can use it to learn about shutter speeds and aperture settings – it has all the manual settings!
As some of you may seen on Instagram

(@lilypebbles)

, I recently bought myself a Canon EOS 600d. I've been saving for a while and decided to take the plunge one Friday after work. I bought it in Jessops after looking around for different prices. The man in the shop kindly gave me the online price and after fluttering my eyelashes, he did a good deal on top of that. This is a proper DSLR… scary stuff. I'm slowly learning how to use it all, but I reckon practice makes perfect and after a while I'll be a pro! ha. I'm really excited to get stuck in and learn how to do all the things I've always wanted to. I've been working my way up to this for years and I finally feel like I'm ready and deserve to have a big fancy camera.
So that's my camera story. I HIGHLY recommend Canon cameras, I've loved all of mine. I hope this helped some of you – if you'd like to ask me any questions about these cameras feel free to comment on this post or tweet me!
If you have the Canon 600d, feel free to send me some tips, I have a lot to learn!
Disclaimer: All the cameras were purchased by me (unfortunately).