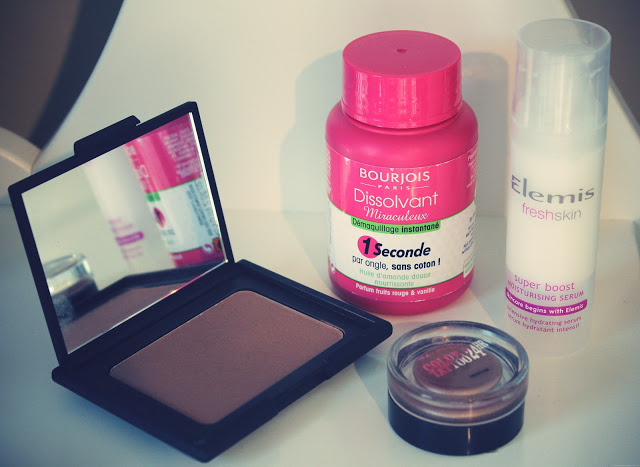 NARS Laguna Bronzer, Maybelline 24 colour tattoo, Bourjois magic nail polish remover*, Elemis Fresh Skin serum*
Just a quick monthly favourites this month, as nothing has really shone for me. Next month will be a big one as I have already fallen in love with loads of products over the last week.
NARS Laguna Bronzer:
I've wanted this bronzer for ages but hadn't run out of my old Guerlain bronzer yet so couldn't justify buying it. That was until I got an email from
Buyapowa
and saw it was available for as low as £18 (I think). So I snapped one up within minutes! I really like it. You need to apply it with quite a light hand as it's quite dark and very pigmented, but it's easy to blend and looks really natural.
Maybelline
Colour 24 hour tattoo
(never know what the real name is, it's too long!)
in 'On and on bronze':
I've already written about this in detail
here
, and I haven't stopped wearing it since. It's the perfect eye shadow for work because it stays put all day. I can't recommend this enough, it's amazing!
Bourjois Magic nail polish remover: This has changed my life. I know that these were brought out a few years ago, but Bourjois have just created their own pot of magic nail polish remover and this time it won't damage your nails. You basically stick your finger inside the pot of foam, twist it around a bit and voila, your nail polish is removed. I'm obsessed with it and for £3.99 I will be repurchasing this again and again. It's made with sweet almond oil so your nails feel nourished after. This will be available from mid April in Boots and Superdrug and I highly recommend it.
Elemis Fresh Skin Super Boost moisturising serum: I got this at the Superdrug press event and I was actually really pleased to hear that Elemis were putting their products in Superdrug. Elemis Fresh Skin is their sub-range for younger skin and I think it'll work really well. I have been loving this serum this month; I use it before my moisturiser and primer and it feels gorgeous on the skin.
What have you been loving this month?
Lily xx