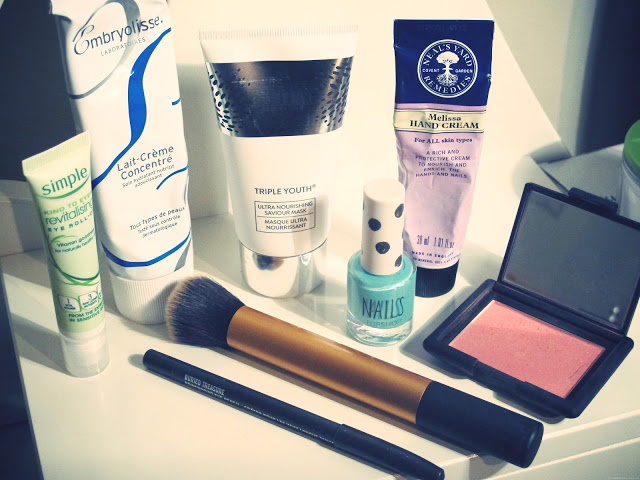 NARS blusher in 'Deep Throat' –
I've fallen back in love with this gorgeous blusher. It's a rosy pink with gold shimmer and is so easy to wear during the day. I've been wearing this pretty much everyday and love it.
Real Techniques Buffing Brush –
I've been using this everyday to apply my foundation and am so impressed. It makes my makeup routine so quick and easy. I talked more about this brush
here.
MAC Powerpoint eye pencil in 'Buried Treasure' – This was one of the first ever eye liners I bought and when recently clearing out my makeup drawer I found it and thought I'd give it a try. First time round I was unsure of how to use it but I've been experimenting and have found it so versatile. It's a gorgeous colour which is hard to describe; it's sort of a taupe/khaki/gold colour. I use it to line my eye and also sometimes use it all over the lid as a base.
Topshop nail polish in 'Pool Party' –
I wore this polish the other day and I had SO many compliments on it. Even strangers were commenting on how much they loved it. It's a really lovey aqua blue/green colour and I've been wearing it loads. I think I actually prefer it to my all time fave Essie 'Mint Candy Apple'.
Neal's Yard 'Melissa' Hand Cream –
This was given to me by the lovely
Gemma
. I've never been a massive fan of Neal's Yard; I once tried a cleansing lotion and didn't like it at all, so I kind of just forgot about the brand. The minute Gemma gave this to me, I opened it and smothered it on my hands (I love hand cream!). The first thing I noticed was the incredible smell. It has a really strong citrus scent, which is really nice and fresh. There hasn't been a day this month that I haven't used this and I will 100% be buying another one when I run out.
Gazelli Triple Youth Ultra Nourishing Saviour Mask* –
Gazelli is a new brand I've discovered. The Triple Youth range was created by Dr Hamzaveva and her daughter based on Gazelli's exclusive white healing oil. This is a lovely mask that applies like a thin gel and smells amazing; a bit like sweet figs. It leaves your skin feeling amazing and I've been using this once or twice a week. The mask is £25 so it's more of a luxury product but you do actually get luxury with this, it's really worth it!
Simple Revitalising Eye Roll-On* –
This is a really random product, but despite my initial reaction to it I've actually ended up using it every morning! It has a silver rollerball applicator that instantly cools your eye area and reduces puffiness. I'd say at least 3 times a week I wake up with extremely puffy sore eyes. I have no idea why it sometimes happens and sometimes doesn't, but this seems to really help. It's really soothing and refreshing.
Embryolisse Lait Creme Concentre –
I was clearly living under a rock because despite raving about the Bioderma Crealine H2O, until
Nicola
mentioned it to me I was completely unaware of this incredible moisturiser. This product has been around forever and is a pretty standard product in France. When my mum went into the French pharmacy to ask for it, the lady couldn't understand why she'd gone in specifically to buy it; they kept it locked away behind the counter. It's a staple product for most makeup artists and I now couldn't live without it. It's fragrance free, light, easy to apply and works really well under makeup. It comes in a massive tube so will last for ages and I use it every morning and evening. Love, love, love it!
Well that's February done. Bring on March and more sun please!
Lily xx
Disclaimer: Products marked with a * were sent to me as PR samples. My opinions, as always, are honest.