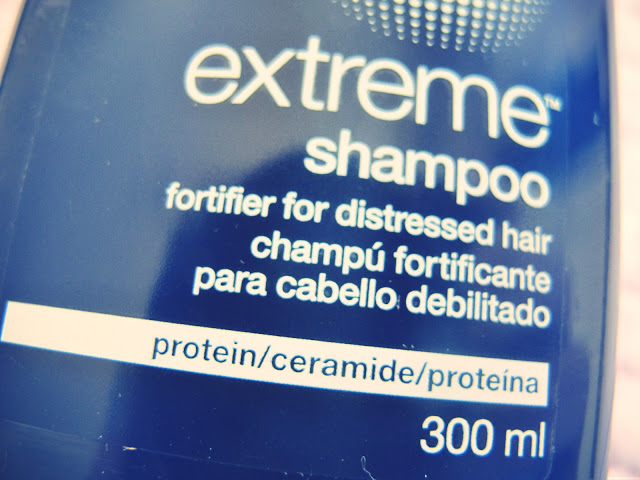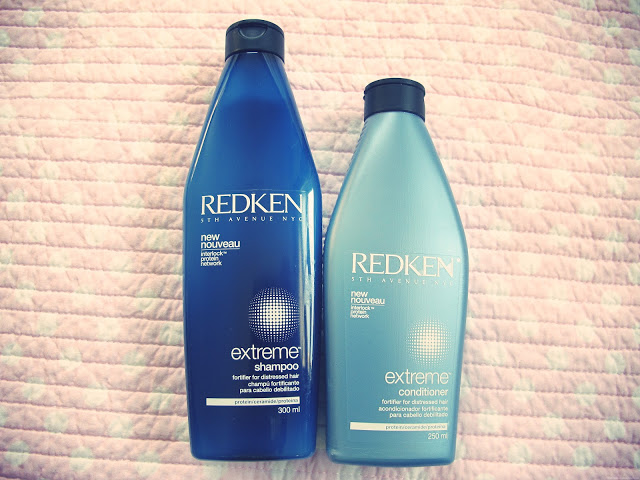 I've never tried anything from Redken before and it's never really crossed my mind. I always like to try new good quality shampoo and conditioners, so when I got the chance I took it!
I chose to try the shampoo and conditioner from the extreme range as I have very damaged hair that breaks easily. This range promised to strengthen and repair damaged hair, locking in protein and preventing breakage…perfect!
The first thing I noticed is the sleek packaging. This shouldn't matter much when it comes to picking haircare, but I do love packaging and I especially like that the shampoo bottle is clear so you can see how much product is left inside. The smell is amazing! I have been trying these for a month so I can really see what they're like and every time I've used them I've been trying to figure out what the smell is. I've come to the conclusion that it's kind of like an apple flavoured cocktail. I say this because it's definitely smells of apple, but it's not at all sweet like you'd expect – it's a grown up apple smell! I love it.
So as I said I've been using these for a month now and putting them to the test! For those of you who don't know, I naturally have very curly hair that's really fine and damaged from all the straightening. I absolutely love using the shampoo as it lathers up really well. I find it much easier to use shampoo that lathers up as my hair is quite tough and it's hard to distribute the product if it doesn't.
The results were completely different depending on if I straightened my hair or left it curly. When straightened, it does wonders! It feels very soft and generally much stronger than normal. I don't love using them if I'm having my hair curly as it made it too curly, fluffy and quite unmanageable. Most of the time I wear my hair straight though so I'm loving using these and will definitely be buying more when I run out!
The shampoo is £10.10 available here and the conditioner is £11.40 from here. They are available from Feel Unique and we all know what that means… free delivery!!
I highly recommend them!
Lily xx
Disclaimer: These were sent to me for consideration but as always my opinions are honest.