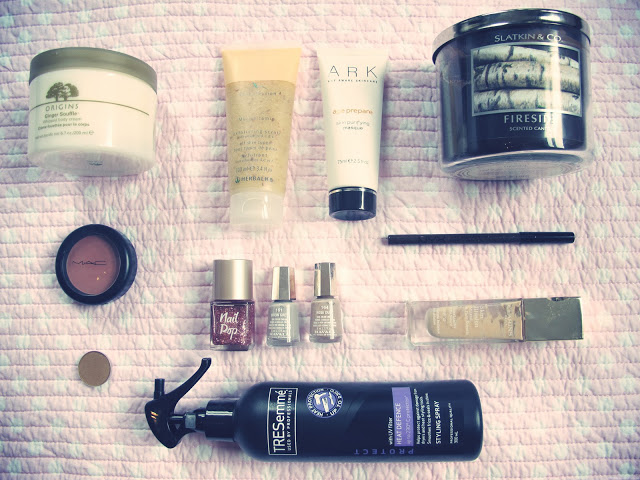 Origins Ginger Souffle whipped body cream: I've been using this after my showers/baths and I absolutely love the smell. I'm not even a big fan of ginger, I just love the citrus scent it leaves on the skin. It's so luxurious! I bought this is American, so it was slightly cheaper, but I'd repurchase it here any day!
Herbalife Exfoliating Scrub*: This scrub has strawberry and raspberry seeds in it, which is really different and very affective. Unlike a lot of other exfoliators that are too rough for my face, this one is really gentle. I've been using this a lot recently.
ARK Age Prepare Skin Purifying Mask*: I absolutely love this face mask. It's a really nice, thick cream that you apply a thin layer of all over your face. You leave it on for 10 minutes while it hardens and you try your best not to laugh and crack it. Once it's removed my face always feel SO soft.
Bath & Body Works Fireside scented candle: I got a couple of these candles in America and I have been burning them daily since I got back. The fireside scent is absolutely gorgeous and makes my bedroom smell really cosy and comforting.
MAC Blushbaby blusher: I've mentioned this before so I won't go into detail. Just a really easy sheer tone blusher that I've been wearing everyday to work.
MAC Soba eye shadow: Such an easy shade to wear all over the lid for an everyday look. I use a MAC 217 brush and sweep it all over if I'm in a rush.
Mavala Rose Dust & Moon Grey polish*: I've been loving using these neutral shades alongside my LOOK Beauty 'Bling' glitter polish*. The Mavala polishes are tiny so I always overlooked them, but they are really great quality.
NYX Slide On Pencil in Brown Perfection: Picked up this eyeliner in Ulta in Miami for around £1. I've been using this to line my upper lashes and it makes a really nice change from black liquid liner. Sometimes I just prefer a more natural look, and this is a really easy way to achieve that.
Clarins Skin Illusion Natural Radiance Foundation: I fell back in love with this foundation. I don't think it gets talked about enough these days; it is such a great foundation! It smells like watermelon, blends really easily and genuinely makes you look radiant without looking shiny. This is probably my favourite foundation that I've tried!
Tresemmé Heat Defence styling spray: I bought this is my lunch break in Tesco when I was feeling the need to spend money. A lot of the products I love to use don't actually protect my hair from heat so I felt the need to use something that does. What I like most about this is the pump. Like the John Frieda 3-day straight, it has a really easy to spray pump that evenly distributes the product and is just a pleasure to spray!
So that's all for this month. Have you been using any of these products?
Disclaimer: All products marked with a * were sent to me as PR samples. As always, my opinions are honest.