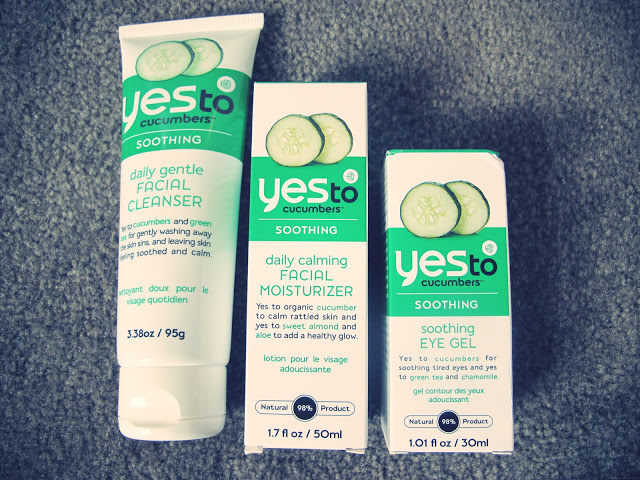 I first heard about the 'Yes To' range on
Ingrid's YouTube channel
and it seemed like a great brand. It's pretty hard to get in the UK, you can order it online at
Feel Unique
but apart from that, it's hard to get hold of. So when I was contacted and told that 'Yes To' will be coming to the UK at the end of the year I was very excited!
There are 4 product ranges under the 'Yes To' brand… Carrots (nourishing), Cucumbers (soothing), Tomatoes (clear skin) and Blueberries (age refresh).
I was sent a few products from the Yes To Cucumber range to try out and guess what? I'm in love! Not only have I become obsessed with these, but my boyfriend now won't use anything else!
The whole range is very refreshing and soothing! The cleanser feels a bit like a gel, but lathers slightly when you rub it into your skin. It's very gentle and leaves your skin feeling really soft. The moisturiser is my favourite from the three products. I have been using it in the mornings and it is really light but still works wonders! The eye gel is really good to reduce puffiness. Some mornings I wake up with really puffy eyes for no reason, and putting some of this gel on really relieves it and soothes the whole area. It includes gorgeous ingredients like Green Tea and Aloe Vera.
It's definitely a big thumbs up for me and I can't wait for it to come to the UK so I can try more products! It will be available from
Victoria Health
from 1st April and retailers nationwide from 1st May.
They are also going to be bringing out the Yes to Baby Carrots (amazing name) with bath and body products for little babies.
Have you tried any before? Do you want to? Which range would you want to try?
Lily xx