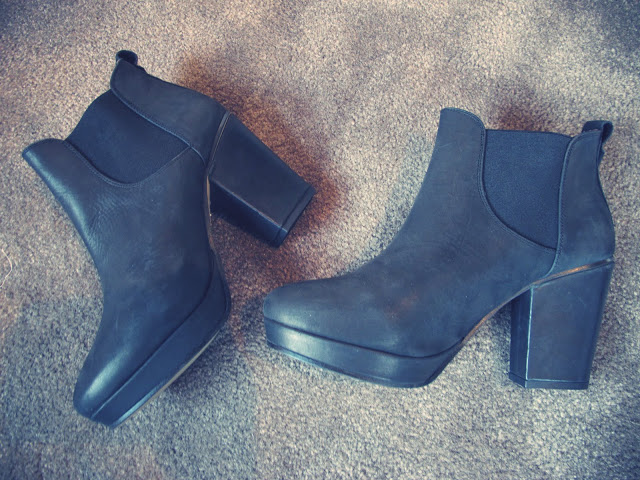 Topshop Allegra Boots: I saw these in the Oxford Circus branch when they first came out and thought they were amazing. I thought I'd think about it and come back and try them on. Next thing I know, Lily writes about them and as usual, they are sold out everywhere! Nightmare! As soon as something is sold out I always want them even more. I finally found a pair in Brent Cross. The last pair available and in my size… fate! I wore these for the first time yesterday and I wouldn't recommend them for lots of walking. I have blisters everywhere, but I still love them.


Chanel Eclat Lumiere: I love the idea of a concealer like this, but my experience in the past hasn't been great. I really dislike the Touche Eclat, despite the buzz. I think it smells like chemicals and is far too sheer to do anything for my dark circles. I am still a massive fan of my Bobbi Brown corrector and concealer, but thought I would buy this Chanel concealer for my handbag. A lot of the time I go out after work and don't want to bring in my normal concealer and brush – this is really easy just to brighten up under my eyes and cover any blemishes. It is really creamy and is the perfect shade for me.


Stila Smudge Pot: I was very excited when I heard about Stila returning to the UK. My mum used to always use their cream blushes and I used to secretly use them when I was little. I went to Westfield yesterday and popped into Boots to see if they stocked it. I was with my boyfriend so couldn't browse for long. I decided to get this grey smudge pot though, which I think will be very useful to do a smokey eye.

Collection 2000 Extreme 24-hour Felt Tip Liner: I have been loving using my Bobbi Brown gel eyeliner, but sometimes when I'm tired or in a rush, I want to use something a bit easier. This eye liner is great, it is literally just like using a felt tip. It lasts really well throughout the day and dries instantly. Let's wait and see how long the product lasts for…
I hope you guys have noticed that I have re-done my blog layout and design. Please let me know what you think! I think it definitely looks a lot cleaner and I have to thank my friend Faye for helping me with all the complicated HTML stuff!
I hope you've all had a great weekend! Wish me luck for the Look competition!
Lily xx