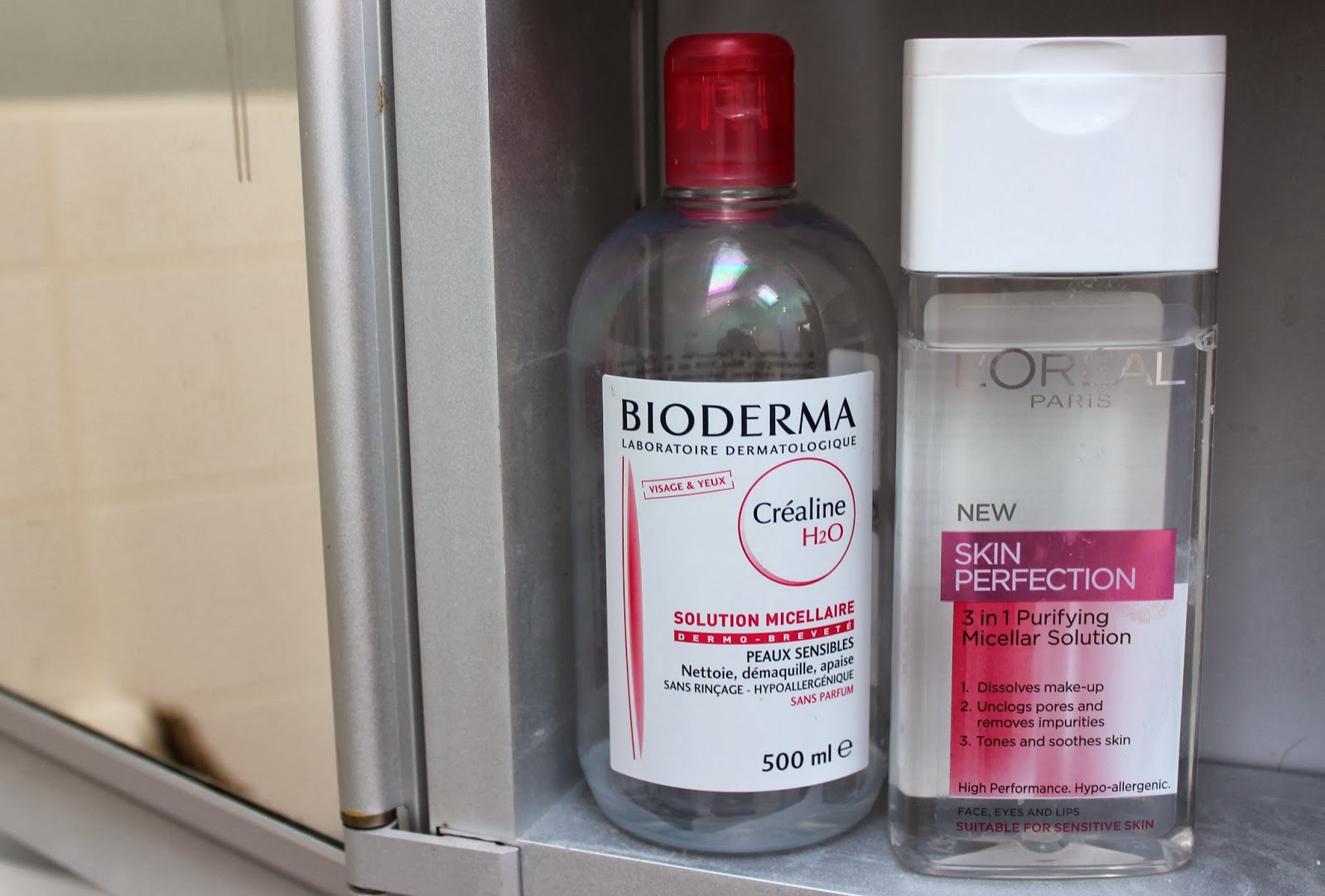 Bioderma has always been famous within the beauty industry and used by makeup artists all over the world but over the past few years Bioderma Crealine H2O has crept it's way into the press, into the blogging community and therefore into the hands of consumers. Everyone wanted to try the cult French cleansing water, I for one spent years stocking up every time I visited France. It used to be impossible to get hold of, then eBay started selling it and now, finally it is available online in the UK as well as in so many stores around London. It's a staple in my skincare routine, usually just for my eyes but sometimes also as a pre-cleanse if I'm wearing a lot of makeup. Although it's not expensive, I wanted to try out a drugstore alternative that is easier to get hold of and even more affordable.
A micellar water I hear a lot about is the L'Oreal Paris Skin Perfection, so I picked one up and took it for a spin. I'm disappointed to say this, but here are my two main reasons why the L'Oreal Skin Perfection isn't as great as the Bioderma Crealine H2O.
THE PACKAGING //
You see this photo? At this point I'd only used it twice and look how much product has gone. Unlike the Bioderma that you have to squeeze the water out, this one falls out onto the cotton pad creating a lot of waste and too much product for my liking when using it on my eyes.
NOT QUITE WATER //
Unlike Bioderma which literally feels like water, the Skin Perfection feels more oily and leaves a slight residue on the skin. When using it on my eyes I did feel a slight stinging sensation and wasn't happy with the oil left around my eyes.
I would have said it was an ok alternative when Bioderma was harder to get hold of, but now it's available on Escentual and in so many pharmacies, I'd 100% recommend sticking with Bioderma Crealine H2O. Have you tried the L'Oreal alternative? What did you think?