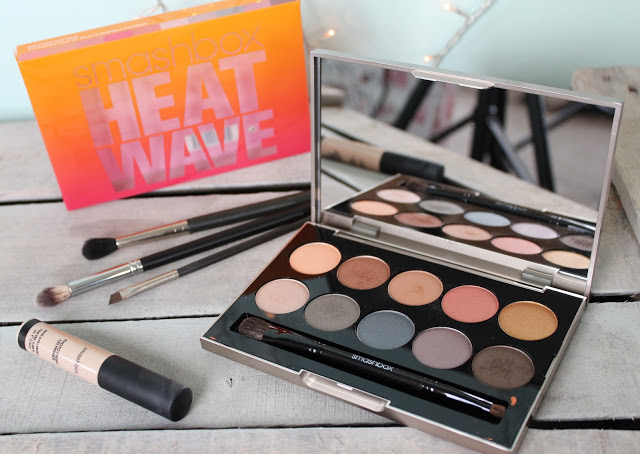 When I was first introduced to this palette last week my face literally lit up and I felt the same way I did when I first saw the Urban Decay Naked palette. You know when you just know that you'll use every colour!?
I've never really tried Smashbox makeup before, I'm not sure why, I just never gravitate towards their counters, but the 'Heatwave' eyeshadow palette has quickly shot up the list to one of my top eyeshadow palettes in my collection.
It comes with 10 shades, a couple matte and the rest shimmer (no over the top glittery ones!). Six are quite neutral, there is a matte peach, light and dark brown shimmer, matte light brown, champagne shimmer and a bright peach shimmer. There are also some nice colours that aren't too bright but are a bit more colourful, there's a browny green shimmer, a teal blue shimmer, a pale taupe/purple and a golden yellow shimmer. They are all really easy to work with and for the look above I used the green all over, with the champagne in the inner corners and both the light and dark browns blended into the crease. I had to restrain to not use them all as I really do love all the shades!
It also comes with a double ended brush that is actually really nice, soft and easy to blend with.
I can't rave enough about this palette, it's great! Have you tried any eye shadows from Smashbox before?