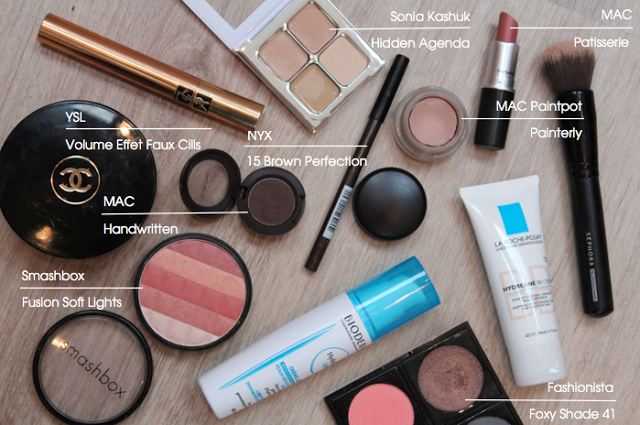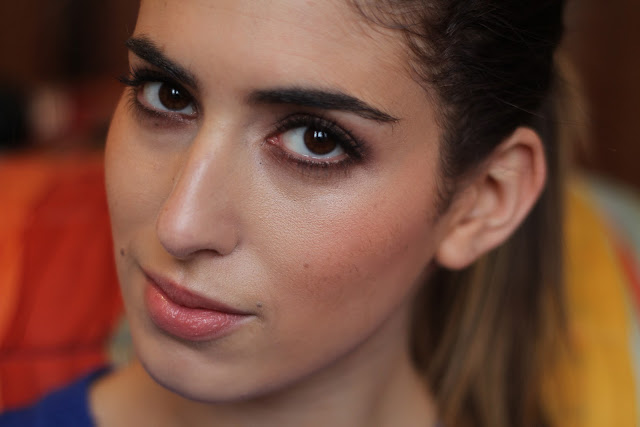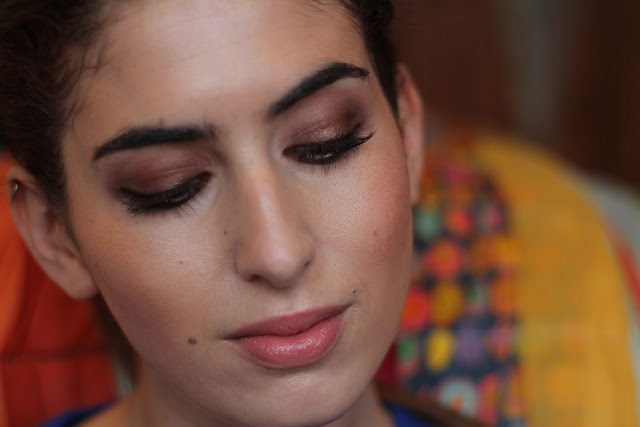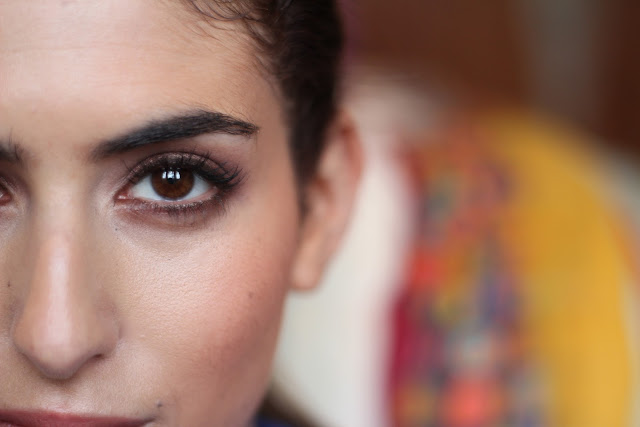 When it comes to getting in a makeup rut I'm definitely guilty. I tend to find products I love and stick to them, which is great, but I also love trying new things. So occasionally on days when I know I'll be at home all day I dive into my beauty drawers and pick out products I either haven't used for ages or haven't yet properly given a chance. In Anna's words, I pretty much have a makeup party!
For my base I thought I'd try my new La Roche-Posay BB Cream that I bought in Paris. Despite my initial worries about the very light colour, it actually matched my skin pretty well. It's a very sheer formula so I'll be saving this for my good skin days, but it felt nice on my skin and left a pretty finish. For concealer I forced myself not to use my Bobbi Brown corrector and instead applied the Sonia Kashuk concealer palette using the top two colours. I actually really liked it once I warmed it up using my finger and the back of my hand. I then used my Soleil Tan de Chanel with a mineral powder brush from Sephora. Because the BB cream base was still quite 'damp' (right word?), the cream bronzer blended in really smoothly and really bronzed up my pale winter skin. For blush I rekindled my love with an old friend from Smashbox. I LOVE this blusher/highlighter and can't believe it's been so long since I used it. It's easy to use, pretty and just so amazing.
I primed my eyes with the MAC Painterly paint pot, which I do like but only if used sparingly otherwise it does crease on me. I went for a brown smokey eye, starting with MAC Handwritten which is a matte brown eyeshadow that I haven't used in years! Handwritten is also nice as an eyeliner because it's a really dark, rich brown. Over the top I added some of the Fashionista 'Foxy' eyeshadow which is so incredibly creamy and pigmented. I finished the eyes with a NYX brown eyeliner – where has this been in my life?! I love how dark and easy to apply it is, it's exactly what I was looking for and it was in my drawers all along! On the lips is MAC Patisserie, a lipstick I fell out of love with a long time ago, but with a strong smokey eye it gives a nice neutral lip to even out the overall look.
So what do you think of this look?
Fashionista 'Foxy' Eye Shadow* | Smashbox Fusion Soft Lights* | MAC Patisserie
YSL Volume Effet Faux Cils | Soleil Tan de Chanel | MAC Painterly | Sephora Mineral Powder Brush
Biodema Hydrabio Légère | Sonia Kashuk Hidden Agenda Concealer Palette | MAC Handwritten
La Roche-Posay Hydreane BB Cream 'Light' | NYX 15 Brown Perfection