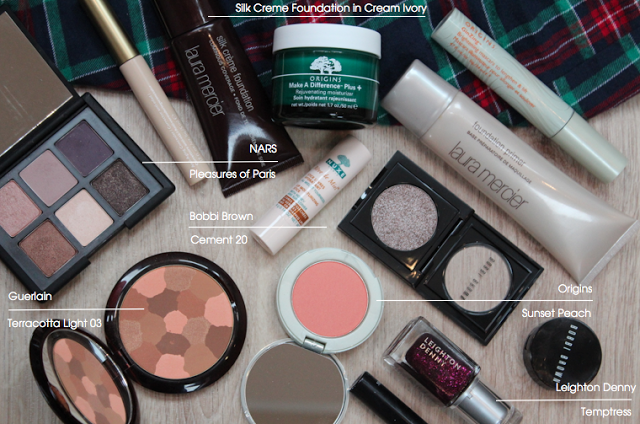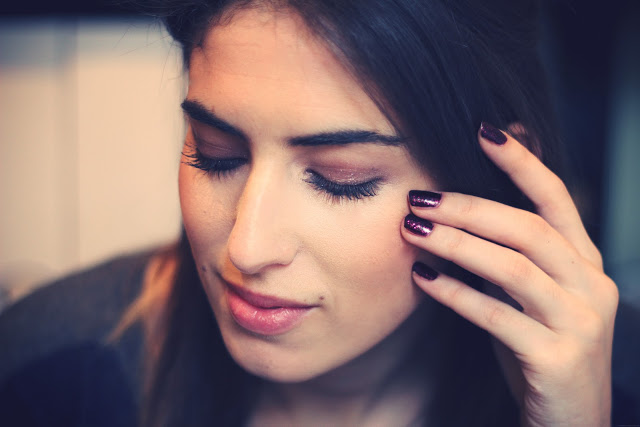 NARS 'Pleasure of Paris' | Origins Plantscription Concealer in 02* | Origins Make a Difference +*
Laura Mercier Creme Foundation in Cream Ivory | Origins GinZing mascara* | Laura Mercier Foundation Primer
NUXE Reve de Miel lip balm | Bobbi Brown eyeshadow in Cement 20* | Guerlain Terracotta Light 03 Brunette*
Origins blusher in Sunset Peach* | HD Brows Brow Beater | Leighton Denny 'Temptress'* | Bobbi Brown Corrector
I've done a few posts like this already already here and here, but they finally have a name… What's On My Face. It's really just an excuse to show you what makeup or nail varnish I'm wearing if I have a day where I don't just throw on the usual suspects.
After getting a bad allergic reaction to one of the Maybelline 14-hour lipsticks (more on that here) I've had to stay clear of any lipsticks and just keep my lips natural with a bit of NUXE Reve de miel lip balm. It seems to be the only thing helping! Seeing as I can't experiment with my lips I decided to go a bit sparkly on the eyes, using the the shade 'Fez' from the NARS 'Pleasure of Paris' palette (which I did a swap for with Laura). Over the top of Fez I patted on a bit of Bobbi Brown 'Cement' which is a gorgeous taupe coloured glitter.
On my face I used my new Laura Mercier Silk Creme foundation which I got in shade Cream Ivory. I use a tiny amount as it is heavier than I'm used to, but once blended it's a very pretty, luminous base. I also used the Guerlain Terracotta bronzer which gives the perfect mix of bronze, blush and highlight. But you guys know I love my blush so I topped it up with this very pretty, peachy shade from Origins (hello strong pigmented blusher!).
To give my nails a bit of glitz and glam (and to cheer me up whilst being without lipstick) I went for Leighton Denny's 'Temptress' which is a vampy ruby purple glitter. But it's not a rough glitter that falls off your nails, it feels rather syrupy in texture and glides on perfectly creating a smooth finish.
So, what do you think of this WOMF? <– Hey, I like that! 'WOMF' (say it out loud, it's fun!)
Lily xx