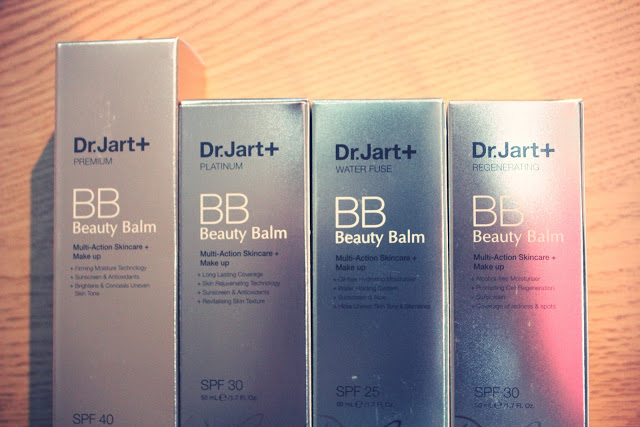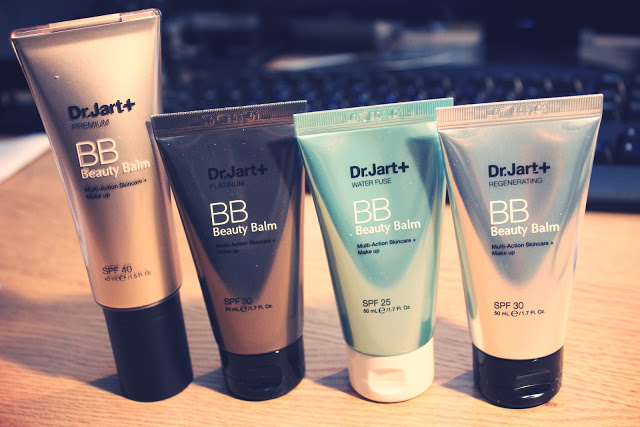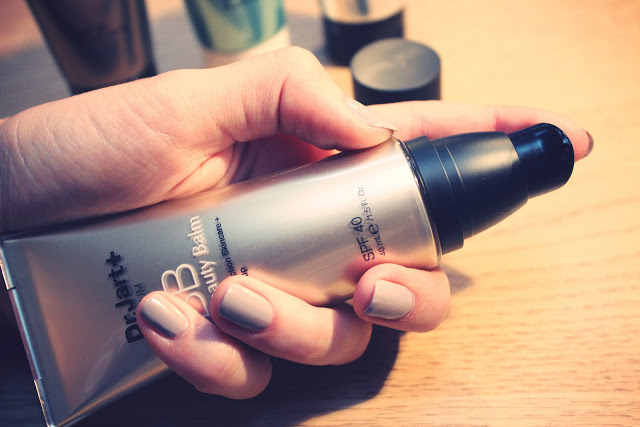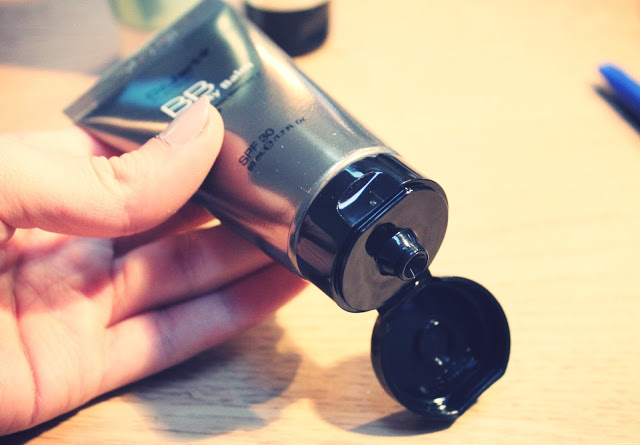 Dr. Jart+ Premium Beauty Balm SPF45 £24*
Dr. Jart+ Platinum Beauty Balm SPF30 £22*
Dr. Jart+ Water Fuse Beauty Balm SPF25 £18*
Dr. Jart+ Regenerating Beauty Balm SPF25 £21*
Last night I received a mysterious package that contained what promised to be a very exciting new UK launch. I was of course intrigued and desperate to find out more.
Dr.Jart+ is a "Korean skincare sensation" and the brand is first being introduced to the UK market with their incredible range of Beauty Balms. The range includes 4 BB creams that all promise to help with skincare concerns as well as targeting ageing. In case you have never heard of a BB cream, they are usually known as Blemish Balms and were originally created in South East Asia. They aim to do many things combined, such as moisturise, tone, prime, give sun protection whilst also giving good coverage at the same time. BB creams come in one colour and gradually adapt to your own skin tone.
I spent all of last night testing the creams and I can honestly say I am seriously impressed. After using these products I think I'll be putting the foundation away for a while… big statement, I know! As I only tried them last night, I don't know how great their lasting power is, but I will report back by the end of the week.
Let me start by saying that I found all of these left my skin looking dewy, glowing and feeling velvety soft, as well as feeling really light on my skin. I applied all 4 with my fingers directly onto clean skin.
Dr. Jart+ Water Fuse Beauty Balm SPF25
The first and cheapest of the 4 BB creams is the Water Fuse which was developed with Aloe Vera and advanced water bead technology. It is supposed to smooth and calm skin whist maintaining healthy moisture levels. This one is good for those of you with combination and dehydrated skin.
This was my least favourite of the 4 as it was slightly too watery for me making it hard to rub into the skin. This one felt less moisturising as the others and much lighter in texture. Although once it was all blended in it left my skin feeling great and looking radiant.
Dr. Jart+ Regenerating Beauty Balm SPF25
This one caters to those with sensitive skin that is prone to irritation. It helps to regenerate skin cells, hence the name, and is formulated with Jojoba Seed Oil and snail secretion… yes you heard me.. snail secretion.
When I applied this one the colour was definitely a lot lighter than my skin, but I gave it time and it did change to suit my skin tone. In my opinion, it is the second highest coverage of them all and feels rather thick when you apply it. It is great for anyone suffering from dryness, redness or environmental damage.
Dr. Jart+ Platinum Beauty Balm SPF30
The platinum balm is targeted at skin that is starting to show signs of ageing and contains a slightly higher SPF than the first two. This one if formulated with antioxidant ingredients such as Acai berry and blueberry fruit extract which is the reason why my skin felt so glowing after applying it. It almost looks as if you have a gorgeous sheen on your face, highlighting the right areas. I felt that this was the thickest of them all, giving the most coverage. At first I looked very ghost-like but like the others, it did blend to my normal skin colour after 5/10 minutes. It is harder to blend than the others but gives a flawless, soft finish.
Dr. Jart Premium Beauty Balm SPF45
The final of the 4 is my favourite, despite it not being targeted at my age group. The premium cream targets the concerns of older skin types reducing imperfections by lifting and illuminating the skin whilst targeting signs of wrinkles, fine lines and loss of skin elasticity.
First of all, this one comes in different packaging in a very cool hard plastic tube with a pump. I felt that this one had the nicest texture of the 4 and although it applied a greyish colour darker than the others, it changed into the perfect shade to match my skin. It blended in really well and I looked so glowing! It feels really light on the skin, but looks like a proper foundation. My mum tried this too and said it tingled on her skin, which is strange. She liked it though, despite the tingling.
So to finish up, here's what I have to say. These are the best BB creams I have tried and I would highly recommend trying one. In fact they beat most the foundations I've tried too. So where and when can you get your hands on them? These babies will be launched in selected Boots nationwide from tomorrow!
Follow them on Twitter for all the news of the exciting launch @drjartskin
I am so excited to hear everyone else's thoughts on them and I just know these are going to be all over the 'blogosphere' this month.
Are you interested in trying one of these? How do you feel about BB creams?
Disclaimer: I have normal/dry skin. My opinions are personal to my skin type and preferences. I'd recommend trying them for yourself as everyone's skin is different!