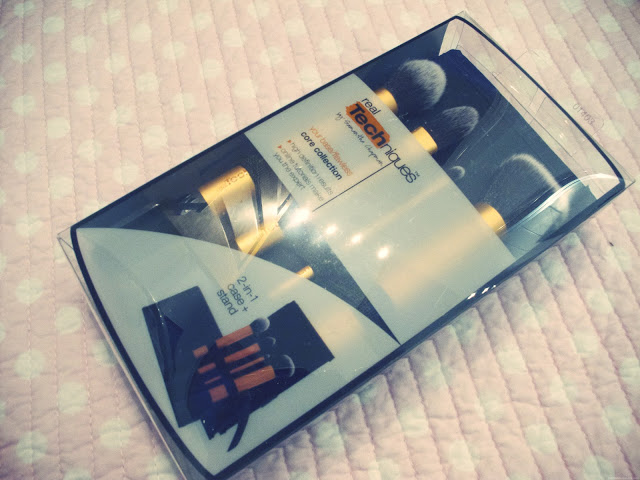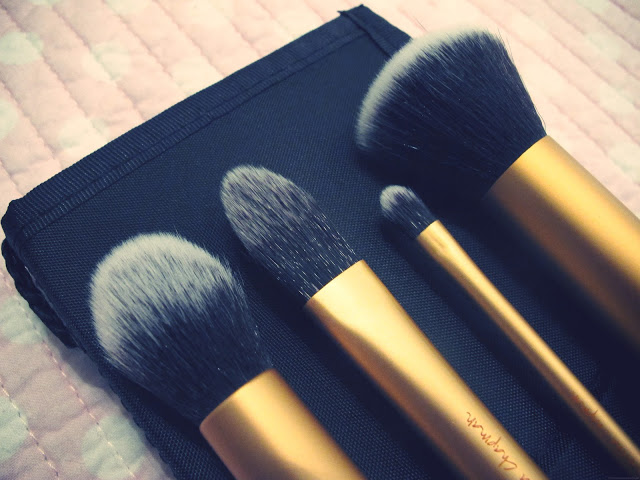 When I was at IMATS I picked up the Core Collection as it was reduced to around £16 and I've been eyeing up the Buffing brush for a while. Although the Stippling brush is marketed as the brush to use with foundation, the Pixiwoo sisters ALWAYS use the buffing brush, so I was desperate to try it.
In the Core Collection you get 4 brushes. The Detailer brush is the smallest brush which I'd probably use for lipstick. You also get the Pointed foundation brush, which I haven't been able to get much use out of as I don't tend to use these kind of brushes for foundation. Then there's the Contour brush which I've been using for highlighting. My favourite brush is of course the Buffing brush and I've been using it everyday for applying my foundation. I find my Sigma F80 too dense and the Real Techniques Stippling brush slightly too sparse, so the Buffing brush is the perfect compromise. It's really soft and makes my foundation look incredibly flawless. It also makes the whole foundation process really quick!
I think it's a shame that the Buffing brush isn't sold separately as it's the only brush in this set that I really love. BUT I would still highly recommend this kit. It's worth buying it just for that brush because it's THAT good. I love it. Real Techniques is now sold in Boots, which is amazing. Here is the list of the stores that stock it.
Have you tried any of the Real Techniques brushes? What do you think?